The Ministry of Transport will spend an additional 45.4 billion yuan ($6.6 billion) on rural roads in the next two years.
The move is aimed at achieving a promise within the 11th Five-Year Plan (2006-10) that almost all rural townships will have access to asphalt or cement roads.
The additional spending will be funded by purchase taxes on vehicles, ministry sources said.
The central government has gradually increased its investment in rural road construction in recent years.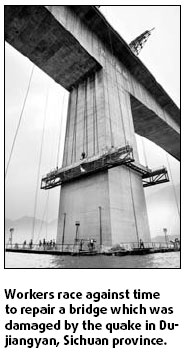 In the first three years of the current five-year plan, it provided more than 81 billion yuan from purchase taxes on cars for rural road construction.
By the end of last year, nearly 89 percent of rural townships had had access to asphalt or cement roads, said Feng Zhenglin, vice-minister of transport.
According to Zhang Dehua, an official from the ministry's highway bureau, the country built or renovated 393,000 km of highways last year and plans to build about 300,000 km this year.
The investment will generate about 3,800 jobs per 100 million yuan, Feng said.
Meanwhile, it has emerged that the Dujiangyan-Yingxiu Expressway, which was badly damaged in the earthquake, will re-open on May 12 to coincide with the first anniversary of the tragedy.
Repair work was almost complete on the road link from Dujiangyan to Wenchuan after the earthquake last year ripped it off.
The expressway was open to traffic but some parts of the project were yet to be finished.
The project consisted of a 26-km expressway from Dujiangyan to Yingxiu town in Wenchuan and a 57-km highway from Yingxiu to Wenchuan.
(China Daily 04/21/2009 page4)