The Great Wall extends 10,000 li (5,000 km) - that's a popular Chinese saying, but it is not true.
Researchers released on the weekend the latest evidence of the length of the Wall, mostly built or restored in the Ming Dynasty (1368-1644): It stretches 8,851.8 km, significantly longer than previous estimates.
The latest findings are based on a two-year mapping and investigation jointly conducted by the State Administration of Cultural Heritage (SACH) and the State Bureau of Surveying and Mapping (SBSM).
The Ming Dynasty Great Wall starts from Hushan in Liaoning province and ends at Jiayu Pass in Gansu province, according to the survey. It passes through 10 provinces, municipalities and autonomous regions in the north: Liaoning, Hebei, Tianjin, Beijing, Shanxi, Inner Mongolia, Shaanxi, Ningxia, Gansu and Qinghai.
It has wall sections of 6,259.6 km, 359.7 km of trenches, and 2,232.5 km of natural defensive barriers such as hills and rivers. The GPS (global positioning system), infrared range finder and other mapping technologies were used in the first systematic mapping of the Wall.
While the survey helped clear the mystery surrounding the length of the Ming Dynasty Great Wall, that was not the sole purpose of the research, said SACH director Shan Jixiang, adding that the exercise is part of The Great Wall 10-Year Protection Plan launched by the SACH in 2005.
"The survey was also designed to map protection zones for the Ming Great Wall and keep records and files on the Wall's upkeep," Shan said.
The Great Wall, originally built by China's first emperor Qin Shi Huang (259-210 BC) in the Warring States Period (475-221 BC), was listed as a United Nations World Heritage Site in 1987. The section built in the Ming Dynasty is the most visually striking and well-preserved portion of the world-famous fortification.
However, Shan said "the Great Wall is under great threat, climate change and the country's massive infrastructure building being the biggest two".
Historian Zhu Zhewen, who specializes in the study of the Great Wall, explained it consists of more than the walled sections often featured in travel magazines or websites. In some sections, it takes the form of trenches or uses natural barriers such as rivers to serve its defensive purpose.
In the western section, mostly located in the desert, the wall was typically built with sand and mud, making it vulnerable to extreme weather like wind storms, which are getting more frequent as a result of climate change, Zhu said.
At the same time, human activity, as in construction of railways or expressways, has damaged some segments of the wall, said the historian.
The survey will now focus on the sections built during the Qin and Han dynasties and will last until the end of next year, Shan said.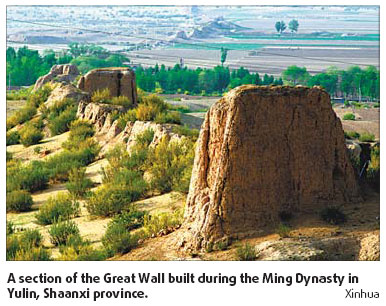 (China Daily 04/20/2009 page1)