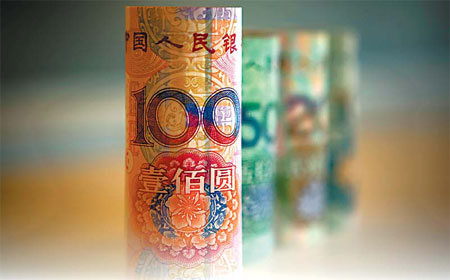 The explosive credit growth over the past few months has propped up the sagging economy, but it may also plant the seed for an asset price bubble and inflation, according to experts.
"The positive news for the first quarter is the strong loan growth," Wang Tao, head of China Economic Research with UBS Securities, said at a forum on Wednesday. "It is a sign that China's growth relies more on credit rather than fiscal stimulus."
China's annualized GDP growth dropped to a 10-year low of 6.1 percent in the first quarter, on poor foreign demand and weak domestic investment.
However, the nation's new yuan loans hit a record high of 1.89 trillion yuan in March, pushing the total new loans for the first quarter to 4.58 trillion yuan, nearly equal to the 4.9 trillion yuan new loans issued in 2008.
The strong growth came after the government relaxed its curbs on loan growth last November, and tried to boost the economy with "ample liquidity" and a $586 billion stimulus package. Analysts say the new loans will take a few months to translate into real demand, as the borrowers may soon kick off the construction of a new wave of infrastructure projects including railways and airports.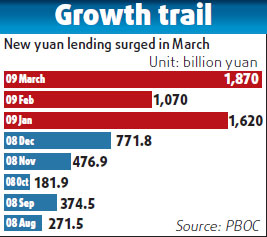 "If the current situation of ample liquidity could last, industrial production will start to rebound in 10 months," Fan Jianping, chief economist, State Information Center, said.
Analysts say Chinese lenders may need to extend more than 7 trillion yuan in new loans to achieve the official aim of 8 percent GDP growth this year. The government said earlier that it expected Chinese banks to extend more than 5 trillion yuan in new loan this year.
"It's nothing to be surprised at if the new loans hit even 8 trillion yuan this year," Frank Gong, head of China research with JPMorgan Chase, said. "Since local enterprises don't have enough profits, they can only turn to the banks."
While the new loans may prove a boon for cash-strapped enterprises, some economists warned that it may give rise to inflation and inflate a new asset bubble.
"The current credit growth is too much," said Wang Xiaoguang, economist with the Institute of Economic Research with the National Development and Reform Commission. "It may lead to an asset bubble."
The Shanghai Composite Index closed at 2534.13 points yesterday and it has rebounded nearly 40 percent from the beginning of this year, the strongest among all major stock markets. Some analysts say that part of the new loans might have gone into the stock market, which helped fuel the rebound.
"Another concern is inflation," said Liu Shijin, vice-president of the Development Research Center of the State Council. "Once the economy starts to recover, the rapid money growth would quickly translate into inflation.
(China Daily 04/17/2009 page15)