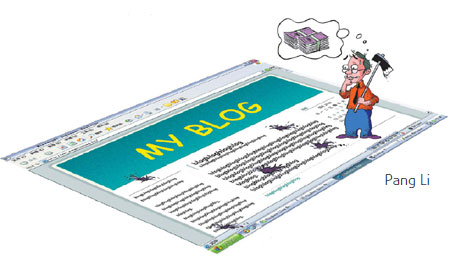 Although more than 100 million Chinese people have blogs, Wang Xiaofeng, one of the most famous Chinese bloggers of all, claims this will become less and less popular in the next few years.
Wang bases his conclusion on the fact the blogs are no longer a novelty and the lack of profit-making opportunities on blog websites.
"A blog is not commercially valuable. It is just a place for graffiti," he says.
Wang started his first blog in 2004, when it was becoming popular in China thanks to Muzi Mei, a young woman who made herself famous by writing a blog about her various sexual experiences.
Like most Chinese bloggers, Wang tried several websites but was not satisfied with their service and censorship and opened his independent blog www.wangxiaofeng.net in May 2006.
With his humorous, sometimes cynical comments on pop culture and Chinese society, Wang's blog is now one of the most visited independent blogs in China, with an average of 35,000 daily hits. Together with RSS (Really Simple Syndication), he estimates that about 60,000 people read his blog every day.
His blog gets even more readers than many magazines but Wang says only one company has so far paid to advertise on his site.
"The content and readers of blogs are very mixed, so it is hard to achieve a good advertising effect. That's OK for me. I don't want my blog to become commercial and a burden for me," says Wang, who is a full-time journalist at the Sanlian Life Weekly.
If bloggers are not concerned about their commercial value, it is vital for the websites. After five or six years, some of the first ones are bankrupt or shifting direction.
Www.blogcn.com has changed its name from "China Blog" to "Bo Shang", a made-up word that incorporates "blog" and "fashion", indicating its changing focus.
There have been reports about the collapse of www.bokee.com, the first blog website in China. Its founder, Fang Xingdong, denies its imminent demise but admits that the company is undergoing a strategic contraction and the number of its employees has dived from 200-plus in 2005 to about 30 now.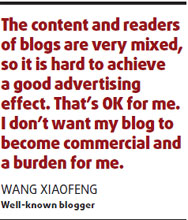 Fang founded the site in 2002, when he saw its great business potential but, like most of his competitors, Bokee has not had enough advertising income to support itself. This predicament became even more acute when Web portals like www.sina.com began to build blog channels in 2005 and when investment dived in the ongoing financial crisis.
"We have walked along a zigzag road in the commercialization of blogs. What we want to do now is reduce our running costs and live through the downturn," Fang says.
He complains that not enough Chinese blogs have valuable content and that most are just used to entertain.
Hu Yong, an associate professor at Peking University's School of Journalism and Communication, believes the entry of Web portals into the blog market played a key role in the popularization of a medium first used by IT professionals but is also behind many of the difficulties experienced by blog websites.
Fang says one remedy would be to separate so-called "elite blogs" and "grassroots blogs". Www.bokee.com could focus on the former, to influence "opinion leaders and the media"; www.blogchina.com, formerly a part of www.bokee.com, could take care of "the community plus online games," he suggests.
"I'm still optimistic about the future of blogs and I'm prepared to engage in a protracted war," he says.
According to the 23rd Statistical Report on Internet Development in China, released by the China Internet Network Information Center in January, 54.3 percent of Chinese netizens or 162 million people were using blogs by the end of last year.
However, the report also showed that only 35.2 percent were updated within six months, meaning that most bloggers were not at all active.
Many of the first batch of bloggers have packed up. For example, Zhu Yanlin, a Shanghai saleswoman who began blogging in 2003, has not updated hers since 2006.
"At first I felt quite excited about my blog and updated it every day," she says. "After a while I began to update it every few days, then every few weeks, every few months, until I didn't write at all and even forgot my password!
"When I look back at my blog, it was very pretentious. Everyone has some inclination toward exhibitionism and voyeurism, and these appear in people's blogs."
On the other hand, Huang Jiashi, a 28-year-old newspaper editor from Nanjing, has been blogging since 2004 and says her day is not complete unless she has updated hers.
"I seem to have become obsessive," she admits. "The blog is a record of my life. I can now check my old ones and see what I was doing on this day in all those years. Almost every person in my office has a blog. We have links to each other and often comment on each other's blogs. For me, blogging is a way of communication and a part of my life."
For Wang, who has published two collections of blog essays, blogging has changed his life. "When I share something fun in my life with others, I am chewing the cud of the fun. Doing this every day, I find that life is not that boring," he says.
Blogging has also changed his writing style.
"In the past, writing was like wrestling for me, but since I began blogging I've been more relaxed while writing," he says. "It has also widened my scope of writing and restructured my mind."
Associate professor Hu believes Chinese people are more enthusiastic bloggers than those in Western countries because it offers an important outlet that traditional Chinese media fail to provide.
"It will exist for a long time," he insists. "Because of people's need to express themselves and the revolutionary nature of blogging. New technology keeps emerging but blogs still have their place."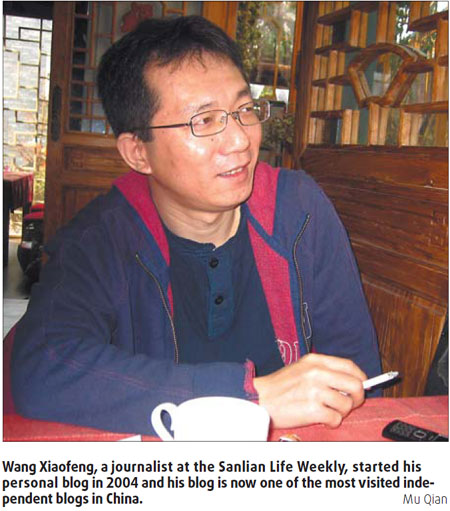 (China Daily 04/14/2009 page18)