Qingming, a time to celebrate life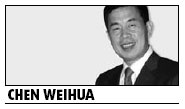 If you think cemeteries are ghastly places, full of stories of sorrow and pain, think again. At least the burial grounds in Shanghai are not just about grief.
Sure, you'll find people sobbing, burning incense, and offering food and wine to the dead. But look a little further, and you'll also spot happy people, of all ages and sizes, flying kites, playing on swings or just sitting around and enjoying the afternoon sun.
The two drastically contrasting scenes, which have stirred a fair amount of debate here, have been quietly accepted as a norm in many Shanghai cemeteries, at least during the annual Qingming (clear brightness) Festival, also known as the Tomb Sweeping Day.

Today's Top News
Editor's picks
Most Viewed