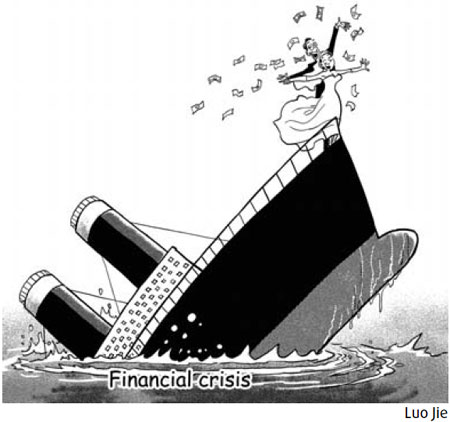 It was late afternoon at the last day of the China International Wedding Expo. Guo Juan threw a throat tablet into her mouth hastily before turning to the next customer.
"I have got 30 percent more orders than last year," Guo said in a hoarse voice. She is a sales agent at Roman Vogue, a wedding photo studio in Beijing.
While governments bail out suffering banks and world leaders meet to discuss a dire global economy, stylish young couples attending the annual wedding exposition in Beijing appeared undeterred. More than 1,000 wedding-related companies showcased their products and services at the three-day event last week and tens of thousands of young couples, plus their parents and in-laws, flocked to the Beijing Exhibition Center, one of the city's largest exhibition halls.
By all accounts, the wedding train is in full-steam in China despite the gloomy economic outlook.
"The generation born in the 1980s, China's last baby boom period, is now getting married. Such a population is huge enough to fend off the negative impact of the financial crisis," said Liu Yinan, chief wedding planner of I Do! Wedding Service, a wedding planning agency based in Beijing.
Liu said she is "as busy as ever" meeting couples keen to spend big money on wedding ceremonies. She even set her sales target for this year 20 percent higher than the previous year.
About 10.5 million Chinese couples tied the knot in 2008, up 10.6 percent year-on-year, according to the Ministry of Civil Affairs. Analysts said China would continue to see large numbers of newly-weds in the next two years.
Meanwhile, these young people, born after China adopted the "one-child" family planning policy, tend to be less concerned about the negative impact on their wedding budget as they get financial support from parents on both sides. After all, weddings are a milestone event in life and people usually don't plan to skimp on this once-in-a-lifetime event.
Although the couples have not cut their wedding budgets, they are all looking for the best value-for-money wedding deals that match their idea of a perfect day. Some cancel the wedding motorcade and splurge on wedding gowns, while others save on food for a luxurious honeymoon vacation abroad.
"I didn't cut my budget, but I will spend the money on the right things," Sun Jingjing said during the wedding expo.
Sun, a 26-year-old human resources assistant at a local company in Beijing, is getting married in October. While canceling the wedding motorcade, she insisted on buying a customized wedding gown.
Jiang Min and his fiance bargained hard on a 4,000-yuan wedding photograph at the expo in order to save the money for a honeymoon abroad.
"We want a simple but special wedding. We don't want it to be lavish," said 32-year-old Jiang, who works at an IT company.
Perfect&Decorated, a wedding gown and makeup chain, earned 1.2 million yuan in sales during the three-day show by selling dresses priced between 5,000 and 10,000 yuan.
Another high-end wedding gown company, Beady (China) Dress Design Co Ltd, expects its business to grow 40 percent this year, said Zheng Hui, the company's deputy general manager. Beady designs and manufactures wedding dresses priced from 7,000 to 40,000 yuan.
The Chinese wedding market also attracted the attention of foreign tourism promotion organizations, including the Scandinavian Tourism Board (STB).
Attending his first wedding expo in China, Ivan Bostrom, a marketing trainee of STB, said he was "shocked" by the flood of visitors and handed out more than half of the brochures he had prepared within the first three hours.
(China Daily 04/03/2009 page14)