Anchor for success
The stage is set for us to work together to tackle challenges in the years to come, US President Barack Obama is reported to have told President Hu Jintao during their first meeting on the eve of the G20 summit in London.
Hu responded by saying he hopes for a good working relationship with Obama.
The initial "stage" is the G20, one of the major mechanisms for international collaboration outside the institutions built soon after World War II, with representation from key developed and developing economies. It is a young and growing mechanism tasked to tackle the world's worst financial crisis since the 1930s.
Thus far, the Chinese and US governments have made tremendous efforts to fight the crisis, and indeed, have announced the biggest stimulus packages in the world. China has expressed a genuine interest in, and has acted to support, the US effort to solve its financial problems.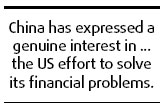 But the sense of urgency permeating the G20 summit today is because economic woes are still spreading across the world, hurting developed as well as developing countries. At the same time, there is speculation that, with different countries having different agendas, the summit may not be able to yield much.
By working together despite their differences, China and the US can set an example for the rest of the world. With the willingness for cooperation displayed at the presidents' meeting yesterday, China and the US can provide an anchor for the G20.
Healthy bilateral relations can lead to multilateral collaboration but the significance of Sino-US relations goes beyond the global financial crisis at the moment.
Open and constructive relations, as Obama said, will also improve peace and security in the world.
It is encouraging to hear that the two countries also agreed to expand and reconfigure their bilaterial strategic dialogue mechanism. The Chinese team will be headed by Vice-Premier Wang Qishan and State Councilor Dai Bingguo, and the US side by Secretary of State Hillary Clinton and Treasury Secretary Timothy Geithner.
Since no single country can serve as the engine driving the global economy, the two countries - the largest and third-largest economies - can synergize and provide a double engine for future growth: Not just to grow out of the crisis, but to grow with sustainability.
It would be ideal for both nations, and people around the world, if the two work together more constructively in coping with climate change, in maintaining peace, and in helping poor countries.
Let's wish this partnership flourishes.
(China Daily 04/02/2009 page8)
Today's Top News
Editor's picks
Most Viewed