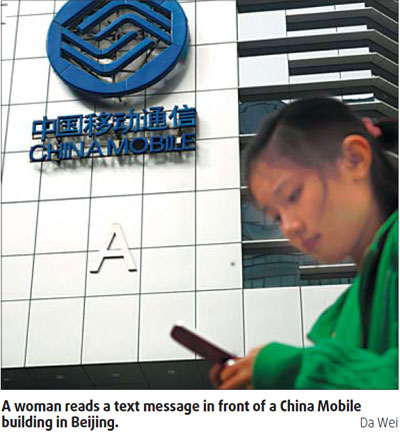 Increased spending in developing the rural market was widely believed to have slowed the earnings growth of China Mobile, the world's biggest wireless carrier, in the fourth quarter of 2008.
The company yesterday posted a net profit of 30.2 billion yuan for the fourth-quarter of 2008, up 11 percent from a year earlier period, the slowest in four years. Sales increased 13 percent year-on-year in the same period to 110.95 billion yuan.
Earnings before interest, tax, depreciation and amortization, a measure of operating profitability, rose 12 percent to 216.5 billion yuan over the 12 months ended December.
To counter declining demand in the major cities because of the economic slowdown, China Mobile has expanded its network and cut fees to add users in rural areas. The carrier, which had 463.9 million subscribers at the end of January, is expected to step up discounts and roll out high- speed services nationwide this year.
The economic downturn and increased spending on rural networks has contributed to China Mobile's lower-than-expected earnings, analysts said. Mobile communications is discretionary spending, and is more vulnerable to an economic downturn.
The price of China Mobile shares has declined 13 percent this year, despite occasional upswings, compared with a 9.3 percent drop in the city's benchmark Hang Seng Index.
"The influence of the financial crisis that swept across the globe in 2008 will likely widen and deepen, and its impact on China's economy will continue," China Mobile said in a statement. "The telecommunications industry will be affected."
Customer additions may drop 25 percent to 66 million at China Mobile this year as China Telecom and Unicom start third-generation services in the first half, Tim Smart, an analyst at Macquarie Group Ltd, wrote in a March 5 report.
China Daily
(China Daily 03/20/2009 page15)