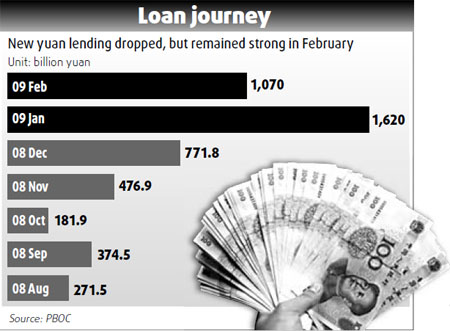 Chinese banks issued a total of 1.07 trillion yuan in new loans in February, down from 1.6 trillion yuan in January, the central bank said yesterday.
Analysts said China's new yuan loans would continue to be at high levels in the coming months as the country pulls out all stops to boost the economy.
New yuan loans totaled 2.67 trillion yuan in the first two months, more than half of the government target of at least 5 trillion yuan for the whole of this year. Premier Wen Jiabao said in his government work report at the opening of the 11th National People's Congress (NPC) session last week that the country's new yuan lending should exceed 5 trillion yuan this year.
The Jan-Feb new yuan lending is 1.64 trillion yuan more than the same period of last year, according to the central bank statement.
"Based on the current momentum, China's total new yuan lending could reach 6 trillion yuan this year," said Dong Xian'an, macroeconomic analyst, Southwest Securities.
Other research institutions also forecast that the lending could well exceed the government target to touch 5.5 trillion yuan or more than 6 trillion yuan.
As a sign of ample liquidity, China's M2, which includes cash and all types of deposits, grew by 20.5 percent year-on-year in February, up from a year-on-year growth of 18.8 percent in January. It increased 17.8 percent in December.
China has set a target of 17 percent for M2 growth this year, which is set to be met as the country is implementing its 4-trillion yuan stimulus plan to boost the economy, analysts said.
"Money growth in China was comfortably above the 17 percent target set by the government," said Tine Olsen, economist, Moody's Economy.com. "The government's huge stimulus package is trickling down to businesses and loans continued to grow at a healthy pace."
Analysts said as the country's exports remained weak - it slumped by 25.7 percent year-on-year in February - it was necessary for China to maintain the forcefulness of its stimulus measures, including continual injection of liquidity.
"Although it shows signs of recovery, the Chinese economy remains weak," said Dong. "It is necessary for the country to release more stimulus measures to help the recovery."
Morgan Stanley economists said in a report that "monetary policy will remain supportive of monetary expansion throughout 2009, amongst efforts to boost domestic demand and cushion downside risks to growth."
But "it could be a worry that loan expansion is happening at such a fast pace as monitoring of loans may not be as careful as authorities could wish for," said Olsen.
China's major banks have vowed to strengthen credit quality control during the ongoing NPC session. "It's on top of our agenda to ensure the quality of our loans," Guo Shuqing, chairman, China Construction Bank, said.
(China Daily 03/13/2009 page14)