China will renew its deals with Moscow for energy resources before the end of this month, said the Chinese ambassador to Russia yesterday as he hailed the unbreakable link between the two nations.
The agreements will include a long-term crude oil trading pact and a project to build a new pipeline, ambassador Liu Guchang told China Daily during discussions at the CPPCC.
"It marks a major breakthrough in bilateral energy cooperation," he said, "and reflects the strengthened and practical efforts of two countries in coping with the sharp drop in trade caused by the global financial crisis."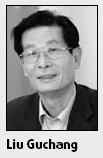 And he added with gusto: "No matter how grave the economic crisis is, it will not affect the energy cooperation between China and Russia."
Liu said the move was a crucial part of a high-level strategic partnership, adding: "China's energy security is key to the country's sustainable development. For Russia, the Chinese market is the most stable, has the most potential and is the most geographically convenient."
On Feb 17, China signed a $25-billion energy deal with Russia in Beijing that will see it secure 15 million tons of oil - 300,000 barrels a day - from Moscow for the next 20 years in return for loans.
Pan Zhanlin, a specialist on Sino-Russian relations and ex-Chinese ambassador to the former Yugoslavia, hailed the energy cooperation, adding that the implementation of the agreement is crucial.
Liu, meanwhile, said the bilateral trade had hit a historical low, with the volume dropping 40 percent in January compared to the same month last year.
Describing it as "a gloomy picture", the ambassador said both sides were affected by the crisis, resulting in shrinking markets, a shortage of financial liquidity and decreased purchasing power.
"We have not made accurate analysis so far," Liu said, "but we are both working on methods to boost trade."
Trade between Russia and China was valued at $56.8 billion last year, up 18 percent year-on-year but a sharp fall from the 44.3 percent of 2007.
(China Daily 03/06/2009 page6)