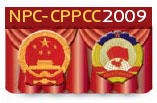 City dwellers left homeless by the earthquake in Sichuan will all be permanently resettled by the end of this year, 12 months ahead of schedule, the provincial government has said.
After vowing to move all rural survivors to newly built houses by September, the authority has now pledged to step up construction in urban areas as the central government feels accelerating the recovery would help boost domestic consumption and reduce the impact of the global financial crisis, said provincial governor Jiang Jufeng.
"Quicker investment in post-quake recovery has been seen by the central government as an engine to boost national development," a source close to Jiang told China Daily, who said the governor had put that message across to leading governmental and Party officials in quake zones at a recovery discussion last week.
"It is likely the decision will be written into the work report to be delivered by Premier Wen Jiabao this week at the annual session of National People's Congress," added the source, who asked to remain anonymous.
The 8.0-magnitude earthquake last May killed nearly 70,000 people and left more than 5 million homeless across Sichuan. In the cities, about 1.4 million houses needed maintenance, with another 313,000 apartments needing to be entirely rebuilt. "This is a huge job for us," said Jiang. The provincial government also plans to reconstruct the 2,811 schools and 1,167 hospitals destroyed in the quake by the end of this year.
Despite the daunting task ahead, life is slowly returning to normal in the cities thanks to aid from home and abroad. Broken roads have been widened and flattened, children are starting classes at new schools, farmers are rebuilding their homes and many factories are up and running again.
The Sichuan authority set its economic growth goal at 9 percent this year, despite the devastating quake and the global recession.
Last year, Sichuan saw a 9.5-percent rise in total production value to 1.25 trillion yuan ($182 billion).
The recovery work is expected to cost 1.7 trillion yuan over three years, with about 70 percent of the key projects expected to finish by year-end.
The 19 richest provinces and municipalities will each take responsibility of reconstructing one county on the severely-hit list.
"And some people in the quake zone can still afford to buy apartments, so I think we should encourage banks to grant loans to them," added governor Jiang.
(China Daily 03/02/2009 page3)