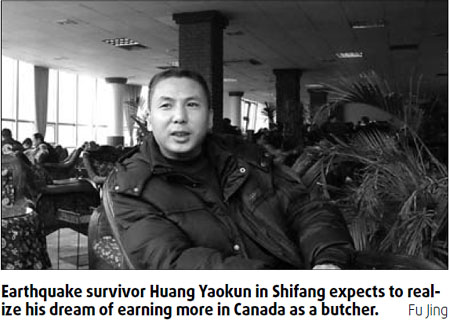 Earthquake survivor Huang Yaokun from Shifang city has bought a tape recorder and English books and practices on his speech every day. It is hard for a Chinese butcher already in his late 30s to pick up English but he is working hard in an effort to realize his dream of earning more in Canada.
"I've already submitted my visa application and if all goes smoothly, I can emigrate within three months," said Huang, who lost his job in a local slaughterhouse after the earthquake.
Joining Huang were his colleagues Liu Shibing and Huang Jun. They said their choices were limited as they can only work as butchers as they become middle-aged.
"Of course we would be happy if we can find employment as butchers in Canada," said Huang, adding that he expects to earn $10 an hour for the three-year contract.
"That will free me from poverty for ever," said Huang. His house was destroyed in the quake and the family stays in a temporary settlement.
Needless to say, his wife is unemployed while the daughter is still studying at a local school.
Huang's city is one of the eight that was severely rocked by the earthquake. Prior to the quake the city was one of the richest in Sichuan province, with the local populace earning decent wages by working in factories, mines and various other businesses.
"The killer quake saw many of them tumble into absolute poverty overnight," said Yin Xianjin, general manager of a local labor company engaged in helping skilled workers find jobs overseas.
Yin said it would be difficult for many middle-aged skilled butchers to work in post-recovery efforts as constructors. "They are lucky as a Canadian company is looking for 20 butchers and packing workers."
With aid from Yin's Canadian company, the job application procedures are proceeding well. "Because we are from the quake-hit zone, the Canadian company has taken a flexible approach to the application process," said Huang.
For starters they have halved the required employment deposit. "That has greatly lifted barriers," said Huang. The Canadian embassy has also speeded up the visa formalities and promised to finish the process three months earlier than scheduled," said Yin.
Huang, in the meantime, has already set his sights on Canada. "I am eager to get back to work as soon as possible," said Huang.
(China Daily 02/25/2009 page14)