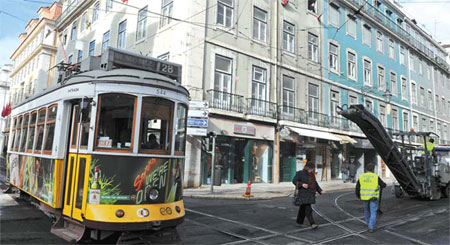 A tram in Lisbon's Baixa quarter, where several buildings are being renovated.     AFP
Lisbon has set out to give its dilapidated historic downtown quarter, la Baixa, a $900 million makeover to bring residents and businesses back to what was historically a bustling hub.
Built on the ruins of a massive earthquake in 1755, this maze of five-story neo-classical buildings, with cream-colored facades, flanks the Tage estuary.
Once the Portuguese capital's center of commerce and finance, la Baixa began a steady decline in the 1950s and has been bled of more than half its residents over the past 20 years.
To reverse the fate of the crumbling quarter, the city has launched several initiatives since January as part of "Plan Baixa", which includes building a museum and university residence, and giving incentives for setting up hotels and outdoor cafes.
The picturesque district fell victim to property speculation coupled with strict rules designed to preserve its heritage.
Neglect and time have also taken their toll on la Baixa, where nearly three quarters of the buildings need repairing, according to the mayor's office.
These five-story buildings - where elevators have been banned to preserve their structures - are built to house apartments on their upper floors and businesses on their ground floors.
But, facing competition from shopping centers, most of Baixa's traditional tailors, goldsmiths, shoemakers and other artisans packed up and left.
As service businesses were lured to the conveniences of modern business parks on the city's outskirts, boarded-up shop fronts multiplied in the neighborhood.
Over the years, there has been a steady stream of calls to revitalize la Baixa, which has up to 5,000 residents, more than one-third of whom are over the age of 76.
But previous municipal initiatives over the past 20 years have failed to get off the ground, according to urban sociologist Joao Seixas, who has lauded the new project as "the beginning of an integrated strategy, which was missing from Baixa for 50 years".
Mayor Antonio Costa says the aim of the measures is to "define the rules of urban renovation, accelerate the process, and bank on projects that encourage private investment".
More than 70 renovation permits have already been issued under new regulations.
The city is taking a gamble on tourism as an economic driver for the historic quarter and hopes that by 2020 it will have attracted the $900 million needed to resuscitate la Baixa.
It wants to encourage new hotels to move into the zone and simultaneously improve its cultural offerings to complement other projects underway in the city. These include a new airport, a high-speed train service and a new cruise ship port.
Despite being heavily indebted, the mayor's office has decided to use some of its own funds to invest in some Baixa projects, including the opening of a fashion and design museum in 2010.
The city also plans to restrict traffic in Baixa, where, according to a study, 70 percent of the cars on the streets are just passing through.
Mayor Costas wants to change this and keeps repeating the same slogan as a reminder that Lisbon's forgotten neighborhood needs to be rescued: "Baixa is the heart and face of our city."
AFP
(China Daily 02/24/2009 page19)