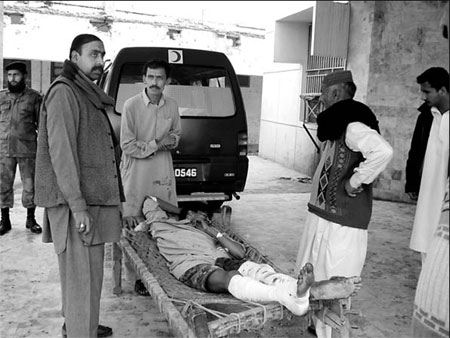 Family members stand near a person injured by a bomb attack at local hospital on Friday in Dera Ismail Khan, Pakistan. A hospital official says the death toll from a bomb attack at a funeral for a Shiite Muslim leader in northwestern Pakistan has risen to 28. AP
A suicide bomber killed at least 28 people and wounded 50 on Friday in an attack on a funeral procession for a Shi'ite Muslim gunned down a day earlier in a northwestern Pakistani city, officials said.
Sectarian violence between militant Sunni Muslims and Shi'ite groups has plagued the town of Dera Ismail Khan on the western bank of the Indus river and close to the South Waziristan tribal region, where support runs deep for the Taliban and Al-Qaida.
"The blast occured when a funeral procession for a Shi'ite Muslim murdered a day earlier was passing by," said Syed Mohsin Shah, the area's top administrator.
"We now have a figure of 28 dead and 50 wounded in the attack," said Shah after visiting the town's hospitals.
Police said they had found the body parts of the suspected bomber.
"It's a suicide blast. We have found the severed legs of the suspected bomber," said deputy superintendent Sanaullah, who had been part of the police escort for the procession.
Other witnesses told the policeman that they had seen a motorcyclist drop off the bomber who then ran among the mourners before detonating the explosives strapped to his body.
"It was my worst fear before the start of the procession as it had happened before and we were very alert and had taken all possible measures. But, unfortunately, we could not prevent it."
A bomb blast at a funeral procession for a Shi'ite in November killed at least ten people in the same city. The man had also been gunned down the day before.
After the latest outrage, people enraged by the attack vented their anger by torching vehicles and ransacking shops. Gunfire also broke out briefly.
Authorities imposed a curfew and police and troops patrolled the town, 270 km southwest of the capital, Islamabad.
The majority of Pakistan's Muslims are Sunni, but around 15 percent of the 170 million nation are Shi'ite. Thousands of people have been killed in tit-for-tat sectarian violence going back to the 1980s.
Sectarian violence has flared up since last year as security analysts say Al-Qaida and Taliban militants, who are Sunni and are bitterly opposed to Shi'ites, have stirred up sectarian strife in order to expand their influence across the northwest.
Agencies
(China Daily 02/21/2009 page11)