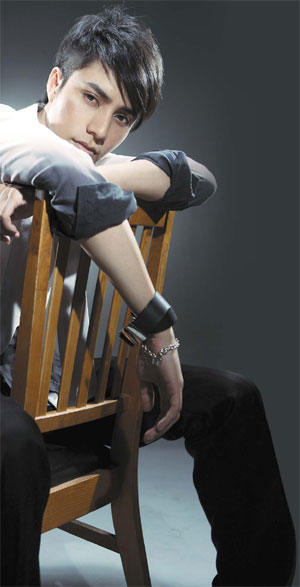 For a long time since his film debut in 1998, Chen Kun was known as just a beautiful face. The image was all too convenient: the man with the melancholy eyes, a product of his turbulent childhood.
It is testament to his proficiency that today, the talk is more about his diverse roles: an intellectual in Balzac and the Little Chinese Seamstress, a psychopath in The Door and a romantic general in Painted Skin. His versatility speaks volumes.
Three more films await Chen in the coming months. He has just been picked for the lead male role in a biopic of Mulan, the Chinese heroine popularized in the West by Disney's animated film; Hong Kong director Peter Chan has also recruited him in Dark October, (see below); while in Founding a Country (see right) he plays the young Chiang Ching-kuo, son of Chiang Kai-shek.
"I've read many of Chiang's biographies. He had spirit - when his father did something he thought was wrong, he would write letters to him, saying he had his blood but not his beliefs," he says. "I don't look like him but I'll try to embody him."
Chen, 33, has good reason to appreciate Chiang's spirit because faith has played a vital role in his own transformation from troubled adolescent to fulfilled adult.
While still a student at the Beijing Film Academy, Chen converted to Buddhism and says: "It has helped me open a door to a spiritual world outside the earthly one. It has even helped me to understand the souls of historical characters I'm playing."
He cites a story to illustrate.
Su Dongpo, the great writer of the Song Dynasty (960-1279), liked talking with senior monks and one day told one of them: "You are a pile of excrement in my eyes." The monk replied: "You are a Buddha in mine." Su told his sister Su Xiaomei about the exchange, apparently in the belief he had scored an oral victory, but his sister, who was famous throughout China for her insight, told him that in Buddhism, what you see reflects what is in your heart.
"Buddhism has changed me most in my way of thinking, and that has changed my whole life," he says. "So for many years now, I have even been thankful for the hard times."
And hard times they undoubtedly have been. Chen's parents divorced when he was 7. His mother re-married, taking his older sister, who later died in a car accident. Chen and his younger brother stayed with their grandmother, returning to their mother when he was 10. Nor was he popular at school, because his mother was the only divorcee in his neighborhood, a riverside district in Chongqing. His mother struggled to raise three children on her own and once had to sell her hair to a local salon to buy apples for the children.
To ease his mother's burden, the teenage Chen worked part-time as a nightclub waiter and singer. Even after he got into university, he had to sing in pubs to pay for his tuition and his college classmate Huang Xiaoming, now also a popular actor, recalls that Chen often got back to their dormitory after everyone had gone to bed.
Chen has often spoken of his inferiority complex as a child and his eagerness to be accepted by his peers. Now, however, he has learned to accept whatever happens to him because Buddhism has taught him nothing is ever only good or bad.
"Some people think that believing in religion can rid them of bad things," he says. "But I have learned to accept the fact that they are part of me. Anyway, why is an inferiority complex necessarily bad? In some situations it can actually be good."
"If resentment of my past made me stronger, so be it, but it doesn't, so why not accept what life has given me and enjoy it?"
As it turns out, the adult Chen has plenty of reasons to be thankful.
When he was 20 and a singer with the prestigious Oriental Song and Dance Ensemble, he landed a coveted spot at the Beijing Film Academy purely by chance. In true showbiz tradition, he had gone along to support a friend, who persuaded him to have a go himself and even paid his application fee. It was a life-changing moment. He was duly accepted and just halfway through the four-year course was plucked by director Wu Ziniu to play Nie Er, composer of China's national anthem, Guoge.
His star has been on the rise ever since, culminating in 2007 with his Best Actor gong at one of Chinese cinema's top events, the Hua Biao Awards.
Chen moved his mother to Beijing five years ago and helped his younger brother open a pub in Sanlitun, the city's trendiest bar area. Having endured the hard times together, he and his family cherish each other more than anything else.
"When we have dinner together, no one can start their meal until my mother has picked up her chopsticks," he says. "When I was young I often thought of buying her nice things but now that I can, I feel more strongly than ever that what she really needs is my love and being at her side."
Chen found the perfect solution: He bought two apartments in neighboring buildings - his mother and stepfather live in one and he in the other. He accepts only two or three projects a year and in his spare time, leads a simple life, enriched by yoga, travel and the treasured moments with his family.
He once joked that being religious in such a vain profession as show business might just be the highest level a Buddhist can reach.
If so, he seems to be doing just fine.
(China Daily 02/20/2009 page18)