Health experts are trying to find out the epidemiological reason behind the increasing number of kidney stone cases among children, the Ministry of Health said yesterday.
Dozens of infants have reportedly fallen ill after taking Dumex milk food, although on Tuesday the General Administration of Quality Supervision, Inspection and Quarantine said the company's baby food was free of melamine.
"But the parents are not happy with the official test result," said Jiang Yalin, the mother of a 20-month-old kid suffering from a kidney ailment. Jiang has organized a group of parents in Kaili, Guizhou, to seek compensation from baby milk food firms.
"Our children have been fed Dumex milk powder since birth and all of them suffer from the same ailment," she said.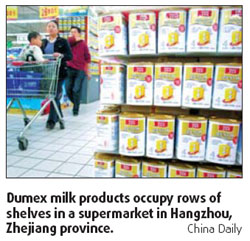 The ministry is conducting a nationwide investigation into the case. "We have asked all local health administrations to carry out epidemiological research on kidney ailments among children," said Ma Yangchen, of the ministry's press office.
"We're trying to find out why the number of kidney ailments among babies has risen drastically it could be related to feeding habits or families' living environment."
A survey conducted in Gansu province recently showed that 5.6 percent of the kids with kidney ailments had never taken any milk powder.
Jiang said local health experts yesterday asked the families of the ailing kids about their lifestyles and living environments, and took samples from the unused Dumex milk powder.
Lin Zheng, lawyer of Jiang and six other parents, said they wanted a third party to test the Dumex milk powder again.
"We still don't have enough evidence to prove the kidney ailments are directly caused by the milk powder," Lin said. "So I'm asking the parents to provide the unused Dumex milk powder for tests. I will find another authoritative institution to test them."
Melamine-contaminated baby milk food has claimed at least six infants' lives and left about 300,000 with various urinary tract ailments, including kidney stones. The milk contamination came to light in September.
(China Daily 02/19/2009 page1)