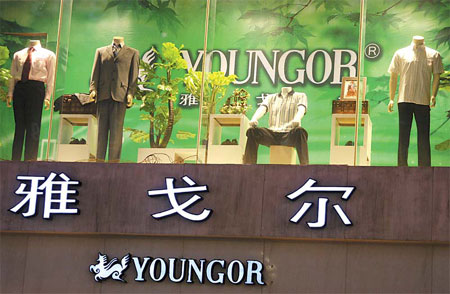 A Youngor outlet in Beijing. CFP
Li Rucheng made his name in China's corporate circles by nurturing Youngor, a menswear chain he founded in 1979 and later developed into one of the most well known brands on the mainland.
Over time, Li diversified into property development and equity investments. This was aimed at spreading risks arising from an overdependence on just one business.
However, as property and share prices started taking a beating in 2008, the Shanghai-listed Youngor returned to its roots.
Today, the company is planning to diversify into the highly competitive women's fashion wear business through mergers and acquisitions.
Youngor is also trying to deepen its presence in cotton planting, weaving and printing, in order to build a complete value chain that will keep costs low and ensure high quality.
It has bought a stake in Xinjiang Xinmian Group, a leading cotton and textile player operating in the cotton growing Xinjiang Uygur autonomous region.
Youngor is also spending 200 million yuan to build a 60,000-sq m facility in Ningbo, the company's hometown.
It has won a 20-year sole distributor license from US menswear brand Hart Schaffner Marx for mainland stores. Youngor is planning to open 300 outlets for the brand over the next three years.
The company is also strongly pushing domestic sales. Chen Zhigao, Youngor's vice-president, said garment sales in the local market rose 20 percent in 2008 from a year earlier.
Even a decline in its exports (which account for 50 percent of Youngor's sales) due to the global recession has been offset by brisk sales at its overseas manufacturing unit Xin Ma.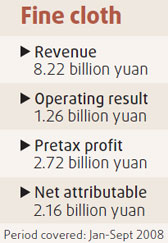 Youngor's overseas sales increased by 60 percent, thanks to Xin Ma, Chen said. Xin Ma was acquired in January 2008 from US-based Kellwood Co for $120 million.
The takeover of Xin Ma was the first overseas acquisition by a privately owned Chinese garment manufacturer and the largest foreign takeover transaction by a domestic clothing maker.
The acquisition gave Youngor control over Xin Ma's 14 production bases, located in Sri Lanka, the Philippines, and some regions within China. It also got Xin Ma's original design manufacturing business for more than 20 global brands, including Polo Ralph Lauren and Calvin Klein.
More important, Xin Ma has given Youngor a management and design team with decades of experience working on international brands, a distribution network that covers hundreds of department stores in the US and a logistics system that minimizes inventory buildup.
The overall performance of Youngor's core business in 2008 comes at a time when the industry itself has been struggling.
China's textile and apparel industry output grew only 10.5 percent, a 6 percentage points fall over 2007. Year-on-year export volume growth was also down 12 percentage points from a year earlier, at 6.77 percent, according to the Ministry of Commerce.
China's State Council nod for a stimulus package to reinvigorate the textile and garment industry has also helped Youngor. Under the package, a special fund has been set up to support technological upgradation. Mergers and acquisitions are also being encouraged. The export tax rebate rate has been hiked from 14 percent to 15 percent.
"It is really favorable news for Youngor," said Yu Jie, a garment industry analyst at Everbright Securities.
Between Feb 2 and 17, Youngor's share price shot up by 16.84 percent, from 8.49 yuan to 9.92 yuan a share. The Shanghai Composite Index grew by 15.3 percent, from 2011.68 points to 2319.44 points during the same period.
Youngor had recently sold nearly 174 million shares of CITIC Securities for 1.4 billion yuan to fund its other businesses, including clothing.
(China Daily 02/18/2009 page15)