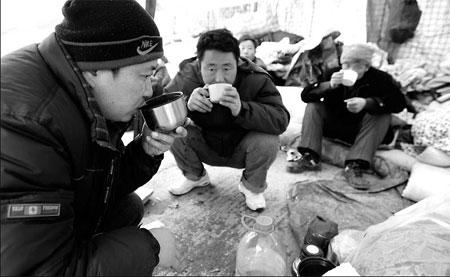 Workers sip tea in a makeshift shelter erected outside the Chinese embassy to Romania yesterday. They are seeking the embassy's help in resolving disputes with their employers and job agents. Reuters
More than 70 Chinese workers have camped outside the Chinese embassy in Romania for the past few days, seeking help resolving disputes with Romanian employers.
"Almost every day since October, dozens or hundreds of workers gather around the embassy," the embassy said in a statement on its website yesterday.
Most of the workers are from Jilin and Shandong provinces. They are demanding a refund of intermediary fees charged by job agencies and their immediate return to China, it said.
Huddles of workers were squatting around fires to stay warm on Monday. About 80 were living in tents. They said they had not been paid in two months.
Workers also said they had failed to get their visas renewed, and job agents "cheated" them, luring them to Romania with empty promises.
They paid large sums to Romanian and Chinese intermediary companies in return for long-term employment contracts in construction.
"I was told I was going to get 3 euros ($3.8) an hour working 10 hours a day," 23-year-old Gao Lin, who arrived 10 months ago, said.
"But here, we were told to do 12 hours a day for less money. And now, I haven't been paid for two months, and I have no more work."
The embassy said it was trying to assist the workers and that representatives of some job agencies have come to Romania to resolve disputes.
About a third of more than 3,000 Chinese workers in the country, mostly in the textile, shipbuilding, construction and agricultural sectors, have sought the embassy's help since 2008, it said.
Labor disputes increased late last year, because a wave of workers arrived in November, just as the global economic downturn began to bite Romania's economy.
"Loose regulation of Romanian and Chinese job agents, some of whom overcharged workers, also led to the rise of labor disputes," the embassy said.
Romanian authorities arrested at least five Chinese workers with expired visas last year. Workers claimed their Romanian employers and Chinese job agencies did not help them renew the visas.
They were released and repatriated in late December.
So far, 209 Chinese workers have returned home, to be followed by another 150, the embassy said.
China Daily - Agencies
(China Daily 02/18/2009 page2)