BAMAKO: Thousands of people cheered and banged drums here on Friday as President Hu Jintao and his Malian counterpart Amadou Toumani Toure laid the foundation stone for the city's third China-funded bridge across the Niger River.
"The bridge represents a new level of cooperation between China and Mali," Hu said at the laying ceremony.
"Although we haven't given a name to the bridge, today we can officially name it Bridge of Malian-Chinese Friendship," Toure said.
Local people had every reason to celebrate, as the new bridge is designed to ease traffic congestion in the city.
"The third bridge will be very good for us," Nene Rokiatou Thiam, an employee of Hotel L'Amitie, said.
Toure talked with Hu about Bamako's need for a third crossing during their meeting three years ago at the Beijing Summit of the Forum on China-Africa Cooperation, the Malian president said on Friday.
In 2007, Toure was told that China was willing to finance the bridge, and soon after teams of Chinese and Malian engineers began working on its design.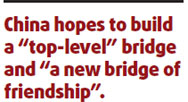 About 40 Chinese engineers and technical workers arrived in Bamako three months ago to start construction.
China hopes to build a "top-level" bridge and "a new bridge of friendship", Hu said.
The structure, about 10 km from downtown Bamako, will be almost 2.3 km long and 24 m wide and carry four traffic lanes, Ma Jiangquan, deputy engineer general of the No 2 Co of the China Gezhouba Group International, which is building it, said.
The project will cost almost 346 million yuan ($51 million).
The firm plans to send about 70 managers, engineers and technicians to work on the it, as well as employing between 500 and 1,000 local workers.
"We try to make the best use of all local resources," Shi Li, vice-president of China Gezhouba Group International Engineering Co Ltd, told China Daily.
"This will help alleviate unemployment and improve the skills of local workers."
The bridge is expected to take about 40 months to complete.
"The advent of China and other emerging players as important financiers (in infrastructure building) represents an encouraging trend for Africa, given the magnitude of its infrastructure deficit," a report entitled Building Bridges China's Growing Role as Infrastructure Financier for Africa said.
The report, commissioned by the World Bank and released last year, also said the investments made by these emerging financiers are unprecedented in scale, and in their focus on large-scale infrastructure projects.
Ever since Mali won independence in 1960, its population has grown fast, especially in Bamako, home to about 2 million people.
Along with steady economic development, the city has also witnessed a steady increase of motor vehicles growing. During the daily rush hours, its roads are packed full with minibuses, trucks, cars and motorcycles.
(China Daily 02/14/2009 page3)