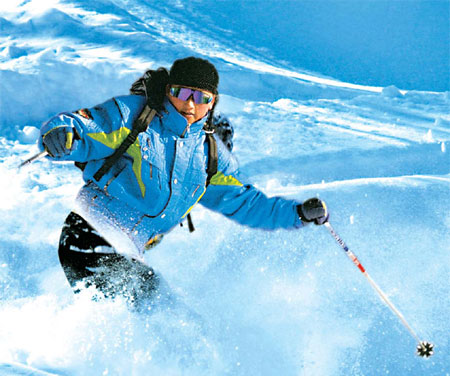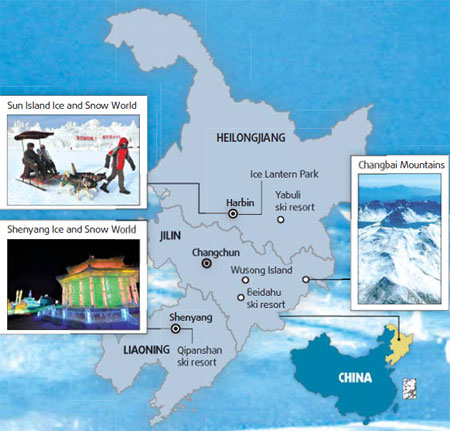 The fun heats up when the mercury drops for people living in Heilongjiang, Jilin, and Liaoning provinces. Those who snuggle up in the warm indoors miss out on the skiing, snowboarding, dogsledding, winter swimming, ice and snow sculpture viewing - not to mention enjoying such novelties as slurping a bubbling hotpot in an eatery made of ice.
The region's winter temperatures average -14 C in the northernmost province of Heilongjiang.
"Even though my friends said Harbin's ice lanterns were a must-see, I didn't believe them until I saw the lanterns with my own eyes," says Shanghai native Sun Xuemei.
"I was captivated by the fairytale-like atmosphere and would like to return if I get the chance."
Heilongjiang
Heilongjiang boasts one of the world's largest snow castles, the country's steepest ice slope, a leading snow- and ice-sculpture competition, and 20 ski resorts catering to winter sports enthusiasts of all levels.
These attractions lure more than 4 million tourists from more than 70 countries and regions every winter, the Heilongjiang tourism bureau says.
Travel agency business and ski resort attendances have increased sharply since the ski season began on Dec 5. And Harbin's hotel and resort occupancy rate has reached 90 percent, director of the bureau Bo Xiru says.
Harbin and its surrounding areas are host to four must-see spots for wintertime tourists. These sites not only provide an opportunity to enjoy the snow and ice but also to experience unique local folk customs and sample local snacks.
Ice and Snow Festival on Sun Island
This year's event features a Scandinavian theme, and visitors can stroll streets that look like those in Finland.
You can also catch group weddings on ice, a Santa Clause parade and the Snow Sprinkling Festival.
Sun Island is a 40-hectare isle in the Songhua River, which traverses Harbin from east to west. (Admission is 70 to 80 yuan)
Harbin Ice and Snow World
Located in Harbin's Songbei district, this place is sure to delight winter sport lovers.
Covering 30,000 sq m, the resort attracts more than 50,000 tourists every year. There are more than 2,000 huge ice and snow sculptures, including one of the Arc de Triomphe. (Admission is about 150 yuan).
Disney Ice Lantern Wonderland in Zhaolin Park
This year, the Harbin Ice Lantern Festival will feature Mickey Mouse, Donald Duck, Daisy, Minnie and Snow White.
Visitors can also enjoy ice acrobatics, ballet, circus and dance performances at the festival, which was inaugurated in 1963.
Yabuli ski resort
As China's largest international ski resort, Yabuli provides top-class equipment and service to tourists. It offers 11 slopes for skiers of all levels.
The resort is a three-hour drive from Harbin.
Jilin
Located in the middle of Northeast China, Jilin's winter is neither too cold nor warm enough to melt the ice and snow.
Gavert Waag, founder of Sweden Nordic Ways Company, which introduced cross-country ski races (called "vasaloppet") to China, says Jilin is the best place for winter sports.
Vasaloppet is the world's oldest and largest cross-country ski race.
The first event in China opened in 2007 at the Changchun Jingyuetan ski resort, attracting only about 750 competitors. But the 2009 competition drew more than 20,000 winter sports fans and more than 2,000 professional skiers.
Jilin has more than 20 ski resorts, including Beidahu, Lianhuashan, Jingyuetan, Changbai Mountains, Songhua Lake, Beishan and Jinchang.
Being home to so many top-notch resorts, the province hosted the snow and ice events of the 2007 Asian Winter Games.
In addition to skiing, visitors can enjoy hot spring bathing, explore rime-sheathed landscapes, dogsledding, snowmobiling, ice fishing and snowfield golfing.
Ice fishing
People fish year-round in Chagan, one of China's 10 largest freshwater lakes.
Local fisherman pock the lake with several large holes, through which they drop nets and can reportedly nab up to 50,000 kg of fish in one haul.
Those who live on the lake claim to be able to tell the size of the fish under the surface by the bubbles they release.
The lake is about two hours' drive from Changchun.
Rime
Jilin city - named after the province in which it is located - is home to a type of rime found nowhere else in the world.
The landscapes on the banks of the Songhua River are swathed with particularly magnificent rime, and Wusong Island is known as the best place to take in such vistas.
Rime only appears in the cold of morning, so those who hope to see it should head out before 8 am.
Changbai Mountains
The Changbai Mountains are known for unpredictable weather.
Near the peak, the Lake of Heaven is often concealed behind a veil of clouds and mist. So only the particularly fortunate get the chance to view this picturesque body of water.
An improvement of infrastructure and services on the mountainsides has made them a must-see for visitors to Jilin.
Liaoning
Liaoning province is a hotspot for many wintertime tourists from nearby areas, such as Beijing, Tianjin and Shandong - and for good reason.
Thousands of visitors flock to the province's hot springs in the cold of winter. There are more than 200 springs warmer than 40 C, the most famous of which are in Anshan, Dandong, Huludao and Benxi.
Splashing in hot water here is a cheaper, and much, much warmer, way to enjoy the coldest time of year than skiing. It's a particularly appealing option for the middle-aged and elderly.
Many of the springs are in open-air facilities, so patrons can lie back and soak in the hot water while they watch the snowfall descend on them.
"I flew here with my friends from down south," Wang Qiao, a tourist from Shenzhen, says.
"There's no snow in my city, so everything here is fascinating to us. It's like being in another country."
Wang was among 2,200 visitors to the Qipanshan Ice and Snow World for the first two days of 2009.
The establishment in the provincial capital Shenyang claims to be Liaoning's biggest ski resort and offers 30 different activities for guests. It will showcase several snow sculptures in celebration of the Year of the Ox, the highest of which stands at 22 m, and is 80-m-long by 40-m-wide.
(China Daily 02/12/2009 page19)