Nanhechi village, northwest of Dengzhou in Henan province, has seen little rain for the past three months. Every morning, Sun Liang's anxious grandfather looks out at the extensive cornfields in front of his house. "I wonder what's going to happen," says the elderly farmer, with a sigh.
However, Sun Liang is more concerned with how he is going to find employment in the city, after the Spring Festival.
The 21-year-old migrant worker was laid off when the shoe factory he worked for went bust last November. He couldn't find another job and returned home early for the Spring Festival.
Nanhechi, he says, is not just reeling under the worst drought in half a century, but also suffering from the fallout of the global financial crisis.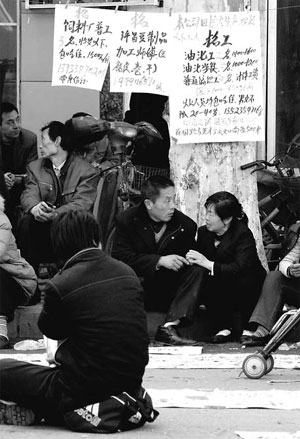 Migrant workers wait for employers at a job market in Zhengzhou, Henan province. Ma Jian
The village has a migrant labor force of 150, that accounts for a fourth of its population. They are employed mainly in factories in Guangdong province and Qingdao, Shandong province. More than a third have lost their jobs in the recent wave of factory shutdowns. Even those that remain employed, are having to reckon with far lower wages.
The situation is replicated in other areas of Henan, a major source of China's migrant labor. It is estimated that more than 20 million migrant workers nationwide are out of work.
Like many of his contemporaries in Nanhechi, Sun Liang dropped out of middle school and migrated to the city for a job. "Textbooks give me a headache," he says.
His parents say no more than 20 people from their village have been through college over the past 30 years. The villagers don't see any merit in higher education, with many college graduates also being hit by the worsening employment market.
Sun found a job in Huizhou, Guangdong, and was paid about 1,600 yuan ($235.29) a month before the downturn hit the city's booming export processing trades. He would send back 1,000 yuan to his parents and his most expensive indulgence was playing billiards at 2 yuan a game. However, many of his friends spent all their earnings.
Sun Hui, another Nanhechi native who worked in a shoe factory in Guangzhou, exhausted his wages on alcohol, poker and gambling. Parents of young migrant workers like him say many are sending back less money.
Recently, Sun Liang received a text message saying the local government was offering incentives for returning migrant workers to start their own businesses. "Everyone wants to start a business and make big money. But no one knows how to go about it," he says.
Except for two chicken farms, the village has no resources that can bring in investments.
The cornfields belonging to Sun's family cover nearly one hectare and yield 6,500 yuan a year.
"The cost of fertilizers, seeds and diesel oil is going up. But the price of pepper, the village's major commercial crop, fell 70 percent by the end of last year," Sun says.
"It is impossible for a five-person household like mine to live on farming," he adds.
The only reason for cheer in his life now is his impending marriage.
"My mother asked me to find a girlfriend at work. But I found these girls wasted a lot of money on mobile phones, clothes and snacks. I always felt inferior and too nervous to talk to them," he says.
A month ago, his neighbor set him up with a girl from a neighboring village. "In the countryside, a man gets married only when he has a one-story house, even if this means using up all his savings or going into debt," he says.
His girlfriend's family paid a visit the day before the Spring Festival and, satisfied with his house, settled the wedding date. It is not unusual to find marriages being arranged in a flash like this in Nanhechi.
"The sooner we get married, the earlier we can go back to Huizhou to seek jobs," Sun says.
He doesn't want to stay in the countryside for he misses the hustle and bustle of city life. But Sun knows that the job scene in Huizhou is bleak. Apparently, a third of the shoes factories there have been shut down.
If the situation worsens he will go to Qingdao, he says, explaining that his wife-to-be once worked there in a plate factory.
(China Daily 02/12/2009 page20)