The government will not adopt a "buy Chinese" products' policy to stimulate its economy because that would be imposing trade protectionism, Vice-Commerce Minister Jiang Zengwei said yesterday.
Domestic and foreign products will be treated on equal footing "as long as there is demand", he told a press conference.
Some US senators' efforts to introduce a "buy American" clause in its economic stimulus bill have alarmed the international community.
The Chinese government has already taken measures to stimulate the domestic market, Jiang said, but will not adopt a "buy Chinese" policy mirroring the "buy American" clause.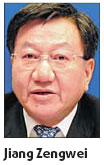 Jiang's remarks were in response to a question whether China would experiment with a policy similar to the US clause to boost domestic demand.
"In the age of globalization, no country can expect to meet all its domestic demand with its own products," he said.
What every country should do is to try to best meet its consumers' demand through international trade, he said, stressing that the competitiveness of an economy lies in the quality and prices of its products.
Though about 80 percent of the products sold in China are made at home, the percentage of goods being imported is rising, he said.
"This is true not only for industrial raw materials, but also luxury goods and agricultural products China imports wheat and soy from the US and Canada to meet the shortage of supply at home and it exports corn and rice to other countries."
The "buy American" clause would be difficult for even the US to impose, Shanghai-based trade expert Feng Jun said. "It's easier said than done. It hardly makes economic sense for a person to try to buy everything made in his own country."
US stimulus bill
The economic stimulus bill under consideration of the US Senate makes it mandatory for US-made iron and steel to be used in projects paid for by the bill. But President Barack Obama has expressed concern over the provision, and critics have warned that it could prompt other governments to resort to protectionism.
"I think that would be a mistake right now," Obama told ABC News last week. "That is a potential source of trade wars that we can't afford at a time when trade is sinking all across the globe."
Though senators agreed to specify in the bill that international trade deals might not be violated, they rejected a proposal to remove the clause altogether.
(China Daily 02/10/2009 page1)