Sweet dreams are... made of paper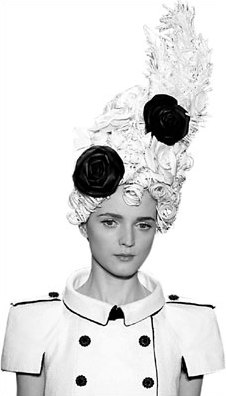 Chanel's Karl Lagerfeld goes wild with paper at the just-concluded Paris Fashion Week. Giovanni Giannoni/WWD
When most people have a good idea, they put it down on paper. Karl Lagerfeld cuts it out of paper. At least, that's what he did for his spring haute couture collection, a show brilliant in more ways than one.
"The idea was a white page," Lagerfeld said days before his show during Paris Fashion Week which ended on Sunday. But there are white pages and white pages. For his, Lagerfeld commissioned a floral paradise crafted from 4,000 meters of plain, pristine paper. He "wanted everything graphic itself, no bling-bling," to realize the idea, which came to him just after his over-the-top Russian-inspired satellite show in December: "Everything was so pushed - housecleaning was needed."
Hence the move from the Grand Palais - "I'm glad it was empty," Lagerfeld quipped of the landmark, now housing the show of another fellow, Picasso - to a former bank just up the street on the Rue Cambon.
Along with it, he shifted his set approach from the single-prop, mega-installations of swirling tower, giant carousel and recreated city street to a glorious paper heaven (grand stairway and 32 columns covered in pristine bowers; paper flower centerpieces and lace cloths dressing cafe tables) that looked like the best work of the cleverest wedding planner in town, or a walk-in version of David Pelham's ingenious pop-up book Trail.
The set, done under the direction of Stephane Lubrina, boasted 6,700 assorted-species blossoms and took 40 people 15 weeks to create. (The paper was glass, rather than wood-based, all ye who might get your scratchy organic panties in a twist.)
There was no shortage of pure delight in a collection inventively conceived and impeccably executed - from the wondrous paper headpieces crafted by Japanese hair genius Katsuya Kamo to several chic takes on spectator sandals.
And the real stars of the day were the clothes. Lagerfeld sent out fab day clothes working a super-narrow focus - tiered structure in various shades of white. Anchoring the look: a square shoulder, often in a short, straight capelet, as if sliced from an 8-1/2-by-11 page. These perched atop little jackets and crisp A-shaped skirts, interspersed with softer moments now and then, and with an occasional flash of crisp black trim.
Similarly, save for a brief digression to black and prints, high evening continued along the great white way, with stark lines contrasting more ethereal options. In lesser hands, it might have been a snooze. Lagerfeld, however, worked each look to distinction. A plain suit featured a swish of chiffon at the wrists; a dress's curious lace motif was fashioned from feathers. As for Lagerfeld's no-bling assertion - not really.
In this lineup, tight rows of bugle beads formed shimmery stripes, paillettes masqueraded as polkadots and the bride wore an austere sequined '60s Space Age jumpsuit outfit, her endless frothy train decorated with, among other elements, paper embroideries, done by none other than M. Lesage.
Still, the mood chez Chanel is that the paper trail won't end in his nimble hands. Recession or no, the belief is that more than a few clients remain plenty flush with cash. Or they can break out the kind of plastic that's good for the fashion environment.
Head of the class
Springtime came early to Paris last Tuesday, thanks to Katsuya Kamo, the hairstylist who created the fantastic flowers blooming on headdresses at Chanel's couture show. Who knew photocopy paper from Office Depot could be morphed into such magnificent creations?
"It's easy," said the 40-year-old Kamo, whose hands are rarely still. He pantomimed how he crumpled, pulled and ran his fingers over pieces of paper to get various textures, and added that only two packets of 11 x 17 sheets were used.
He and his team of six or seven hairstylists worked part-time for up to three weeks making the flowers, which were sent from his native Tokyo in boxes. More flowers were then concocted in Paris for the show, which featured 65 different headdresses.
"I really like this kind of hairdressing," he said, explaining that he's used various materials in coifs before. He has added dried flowers to models' hair and has also dotted heads with mirrors. Hardly a newcomer to fashion, Kamo has created hair looks for designers such as Junya Watanabe, Fendi, Undercover and Tao Comme des Garcons.
He explained that his hairstyling differs from others' since he hardly uses any product, using his hands instead to create effects. When Karl Lagerfeld said he wanted to use paper for Chanel's couture show, Kamo crafted flowers, butterflies and birds. But his skill doesn't end there. He has already tried millinery. A few years ago, he did a small collection of hats that were sold during the Christmas season in Tokyo's branch of Corso Como. And, without a moment's hesitation, he said he would make more "if the chance arose."
The New York Times Syndicate
(China Daily 02/07/2009 page8)