Former chairman takes the helm at Lenovo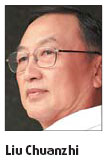 Chinese computer maker Lenovo Group, the fourth largest in the world, yesterday announced its most drastic personnel and strategic changes in the last three years amid the worldwide economic crisis and declining sales.
Change No 1: Liu Chuanzhi, the 65-year-old founding chairman, will return to his old post.
In 2005, Liu handed over his job as Lenovo chairman to Yang Yuanqing but still kept the position as vice-chairman of Legend Holdings, Lenovo's parent company.

Today's Top News
Editor's picks
Most Viewed