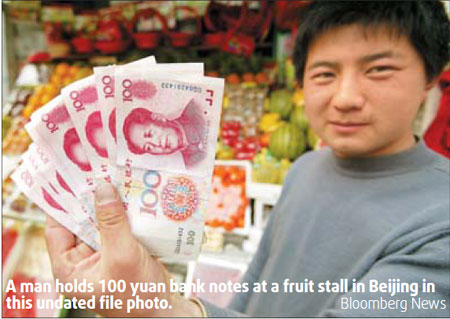 Su Ting, a 25-year-old white-collar worker and confessed shopaholic, recently bought a pile of financial magazines she never read before, determined to manage her money better this year. Lacking confidence in her investment skills and afraid of high risk, Su started to deposit half of her 3,000-yuan monthly salary.
"I used to be a moonlite, which is a popular Chinese moniker for people who always spend all their earnings before the end of the month," Su said. "But now, as I see our annual and monthly bonuses both have been largely cut, I'm a bit concerned about my life in 2009."
According to a survey of 3,690 participants by Sina.com, 48.7 percent choose bank deposits for their money in 2009, while 39.6 percent will continue to invest in areas like the stock market. And more than 50 percent of the respondents believe the worldwide financial crisis will have a great impact on China.
As a result, more and more Chinese people are racking their brains to save money.
In the words of Liu Bei, a university administrative staff member in Beijing: "Saving is the best way of investment."
"For example," Liu says, "my family will eat out with my boyfriend's family on New Year' eve. It is a good way for two families to communicate and at the same time we can get more discounts while tasting more dishes."
Ahmeti Teyip, a 45-year-old man from the Uygur ethnic group living in Urumqi, capital of Xinjiang Uygur autonomous region, is feeling the financial pressure of a daughter about to enter a university and a son who will get married in 2009.
"I'm wondering if we could postpone my son's wedding ceremony," the schoolteacher said. "I haven't got any financing plan in 2009 as I don't think I will have anything left."
Li Bei, a 29-year-old IT worker, calls himself a "mortgage slave" since he has to pay a 6,000-yuan mortgage every month, nearly 60 percent of his salary.
"I didn't feel any difficulty before, however now, because extra income and bonus decreased, it has made me a bit anxious," Li said. He added that his priority in 2009 is to save as much money as possible. "At least, I have to pay the mortgage on time," he said.
Another part of this newfound desire to save money, the "100 Yuan Week" campaign is moving into high gear on Internet forums in Beijing, Shanghai, Guangzhou and Shenzhen. Launched by white-collar workers, participants are required to limit all their living expenses to no more than 100 yuan per week. Participants publish their expense records on the forums and share their experiences of saving money.
The campaign has attracted tens of thousands of people.
However, some people still feel optimistic.
A private enterprise owner in Ningbo, Zhejiang province, surnamed Xu, says he will continue his lamp business until the end of the crisis.
"It is nothing. I just earn less than before. Because I accumulated a lot in the past, I believe I'm able to sustain my business for seven or eight years," Xu said.
Liu Jingjing, mother of a 17-year-old girl, said: "My daughter is going to study in a university in the US this summer. That is a good investment I feel proud of."The timing is right, as the exchange rate of RMB against the US dollar is relatively high, Liu said.
(China Daily 01/23/2009 page15)