Caroline Kennedy has ended her quest for the US Senate seat vacated by Hillary Rodham Clinton, halting a campaign that began with popular support but withered quickly over criticism about her experience and her reluctance to answer questions about her finances.
Kennedy made the announcement in a terse statement released early yesterday, ending hours of uncertainty surrounding her intentions as she appeared to waver in her decision to seek the office.
"I informed Governor Paterson today that for personal reasons I am withdrawing my name from consideration for the United States Senate," she said in the one-sentence statement.
Her spokesman, Stefan Friedman, wouldn't comment further. A spokesman for Governor David Paterson, who will make the appointment to the open seat, also would not comment.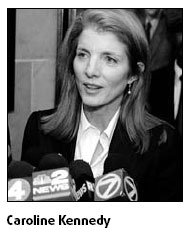 The US Senate seat was once held by Kennedy's slain uncle, Bobby Kennedy, and her initial announcement that she wanted to be considered was met with both excitement from supporters and skepticism from those who maintained that she was simply trading on her famous name to get into public office.
Kennedy's decision boosted the chances of several other candidates, including Attorney-General Andrew Cuomo, who surpassed Kennedy in statewide polls last week.
Paterson said Cuomo had outstanding credentials for the job. Cuomo was the housing secretary under President Bill Clinton. Cuomo was elected attorney-general in 2006 and has since led national reforms in the student loan industry and had a role in reining in corporate spending on Wall Street.
Cuomo is also the most popular elected politician in New York in polls - higher than Paterson, whose approval rating, while still high, has been slipping.
Paterson has asked potential candidates to respond to a 28-page questionnaire. The forms ask about personal finances and other background issues, many of which Kennedy has long shielded from the public.
Kennedy, an author, lawyer and fundraiser for New York City schools, has long guarded her privacy, and the questionnaires were expected to include some closely guarded Kennedy financial data. Paterson had said he thought the candidates' responses would be confidential because it was his personal request that they fill them out.
But the state's open-government expert and good-government groups said once the forms were written and submitted to the governor at least some of the responses would be subject to public review under the state Freedom of Information Law.
Kennedy jumped to the top of statewide polls in early December, but her public support waned following a brief upstate tour and a few press interviews.
She was criticized as reluctant to answer questions, and her knowledge of New York and its issues were suspect. She was also mocked nationwide for her frequent use of "you know" and "um" in interviews and was branded a lackluster campaigner.
Agencies
(China Daily 01/23/2009 page11)