China-European Union (EU) relations experienced ups and downs in the past year, with the number of frictions and disputes increasing. Economic and trade cooperation, a key factor driving relations between the two, suffered a setback. An ever-increasing competition from China's products in recent years is believed to have posed a challenge to the manufacturing sector in Europe.
Also, as bilateral trade further deepens, exports by European countries to China are insufficient to offset their imports from China, pushing up a widening trade deficit on the European side. Under these circumstances, the fallacy of "China's economic threat" has once again been trumpeted in Europe, creating an unfavorable environment for a smooth relationship.
In recent years, European countries have made tangible changes in their past strategy toward the United States in an attempt to rebuild closer ties with the world's superpower and alienate themselves from China. Unilateralist acts by the US, and particularly its unauthorized war in Iraq in 2003, plunged its ties with European allies to a historical low.
Divergences between China and EU on such issues as democracy, human rights and values have long been the biggest factors vitiating bilateral atmosphere. China has held regular human rights dialogues with Europe for more than a decade and has made remarkable progress in the field.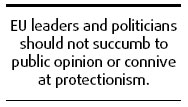 However, that has not removed Europe's deep-rooted suspicions about China. In addition to long-existing problems, Sino-EU relations have also been plagued by some new problems, ranging from climate change to environmental protection. Europe's tougher stances on the issues have brought huge pressures on China, India and even the US.
With the assumption of office as US president by Barack Obama, whose stances have been similar with Europe's, China will face more pressure on these issues. At the same time, deepening ties with African countries are also thought to be a big threat to Europe's interest in the continent. Energy and resources competition is also expected to strain bilateral relations.
Europe has undergone a string of crises and challenges in recent years - from suffering terrorist attacks, the Paris unrest and immigration issue to its failure to pass the European Constitution and the Treaty of Lisbon. Growing dissatisfactions among ordinary people have gradually been transformed into anger at their governments. China is understandably singled out as the scapegoat for ordinary European people's dissatisfaction.
However, the increasing number of frictions and hassles have not rocked the foundation of Sino-EU relations. There are good reasons to believe that both sides will overcome obstacles on the way to developing and pushing forward bilateral ties.
Common ground is expected to be further expanded for bilateral economic and trade cooperation. As early as in 2004, the EU became China's largest trading partner and in 2007 its largest exporting destination. These have not changed so far. China's status in EU's economic development has also been strengthened.
The country is now the largest exporting market of the 27-member EU after the US. Last year, bilateral trade reached $425.6 billion, $92 billion and $150 billion more than the community's trade with the US and Japan respectively. In tackling new global challenges and critical issues, the country has also played an increasingly important role.
As active advocates of multilateralism, EU leaders are well aware that no single county, not even the US, can handle global issues alone. Cooperation from China and other emerging nations can help effectively tackle the common challenges facing the world. It is possible to predict that Sino-EU cooperation on global issues will improve and expand.
The established mechanisms for cooperation between China and Europe will help stabilize bilateral ties. Regular bilateral mechanisms in political, economic, cultural, educational and technological domains have been set up, which have further consolidated their ties. There is no doubt that the establishment of high-level communication and dialogue mechanisms such as the economic and trade dialogue mechanism started in Beijing on April 25 last year, will contribute to the development of a steady bilateral relationship.
Despite facing numerous internal problems, the EU has not changed its ambition to play a bigger role in rebuilding the world order. It will continue to play an important role in the Russia-Georgian conflict and in forging global efforts to handle the ongoing financial crisis, climate change and reforms of international systems.
China should develop its ties with Europe from a strategic position and push for an all-round strategic partnership. In dealing with the EU, the country should appropriately handle its ties with all EU members to balance the interests of all the parties involved. The two sides should make better use of established high-level dialogue channels in an effort to reduce frictions and keep ties stable.
In the context of the aggravating global financial crisis, China and EU should attach particular importance to bilateral economic and trade cooperation and take all necessary measures to resist investment and trade protectionism. To this end, EU leaders and politicians should not succumb to public opinion or connive at protectionism.
Both sides should strengthen cooperation on climate change and environmental protection, by working together in developing low-carbon economies and renewable and nuclear energy.
The author is director of the Institute of European Studies under the China Institute of Contemporary International Relations
(China Daily 01/23/2009 page8)