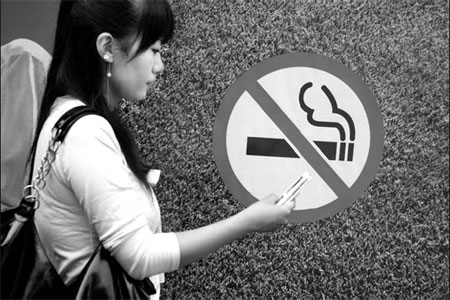 A woman makes a phone call in front of a no-smoking sign in Beijing late last year. The authorities and interest groups have been stepping up efforts to reduce smoking. A Qing
Tobacco control groups and health authorities are rolling out a campaign to discourage Chinese from handing out cigarettes as festive presents, particularly during the coming Spring Festival when gift giving is widely practiced.
The latest campaign will feature clips aired on major TV channels and posters in public spaces calling for people "not to hand out cigarettes as gifts" this month, said Yang Gonghuan, deputy director of the Center for Disease Control and Prevention.
"We want to remind people not to choose cigarettes as gifts, because smoking can cause diseases and health hazards," she said.
"But using a carton of cigarettes as a gift is a customary Chinese way of improving relations," Wu Yiqun, director of the Beijing-based nonprofit group Research Center for Health Development.
"Cigarettes are the medium for person-to-person exchanges, providing a faster, more convenient communication tool," Wu said.
More than 10 percent of the respondents in a recent survey by the Chinese Academy of Social Sciences said the cigarettes they smoke were gifts to them.
Those polled also said that the pricier the cigarettes they received, the more important they felt.
Shrewd tobacco producers in the country have also developed 90 kinds of high-end cigarettes in the past two decades to meet the need, Wu said.
The most expensive cigarettes sell at 2,300 yuan ($356) a carton, while many others among the 90 kinds are between 1,000 yuan and 1,500 yuan. Prices of expensive cigarettes are between 45 to 120 times that of low-end cigarettes, with the cheapest type selling for only 18 yuan a carton, she said.
Chinese tobacco producers also control their output to make the cigarettes more "high-end", Wu said.
(China Daily 01/23/2009 page2)