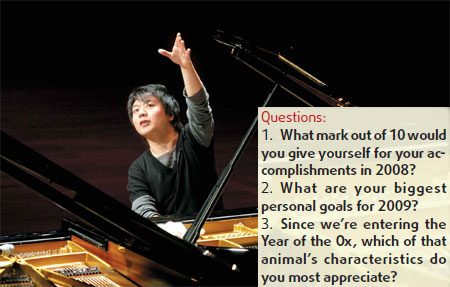 Lang Lang
2008 was a landmark year for the virtuoso pianist.
In February, Lang Lang, 26, played live at the Grammy Awards, his duet with Herbie Hancock being broadcast live to 45 million viewers worldwide. In June, he held a concert with the Vienna Philharmonic in front of Schonbrunn Palace, a prestigious event celebrating the end of the European Soccer Championships. His benefit concerts raised $3 million for the Red Cross earthquake relief. In July, he released his moving autobiography Journey of a Thousand Miles in eight languages and a book for children, Lang Lang: Playing with Flying Keys. His recording The Magic of Lang Lang was a chart-topping success and confirmed him as one of the best selling classical musicians in the world.
At the Opening Ceremony of the Beijing Olympics, his joint performance with 5-year-old Li Muzi captivated 5 billion viewers around the globe.
He got his own line of Adidas sneakers and even made People Magazine's list of the sexiest men alive, alongside Hugh Jackman, Daniel Craig, Zac Efron and Michael Phelps.
In October, he set up the Lang Lang International Music Foundation to support talented young pianists and to enrich the lives of children worldwide with a deeper understanding and enjoyment of music.
In 2009, he will focus on education and outreach programs for children, performing, visiting schools and giving master classes in Chicago, Toronto, San Francisco, London, Rome and Stockholm.
Q: Self-rating for 2008?
A: I never give myself marks.
Q: Personal goals for 2009?
A: I would like to spend more time and effort on the Lang Lang International Music Foundation, creating more opportunities for kids who love music.
Q: The ox's best features?
A: Diligence, seriousness and dedication to work - features all of us should learn from.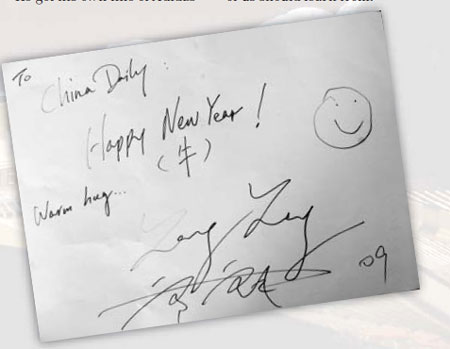 Tong Dawei
Men spend their lives seeking happiness both in a family and career but as the old Chinese saying goes, it is never easy to realize both. Tong must therefore have been the most envied showbiz personality of 2008. He not only starred in a hit TV series and the blockbuster movie Red Cliff, making him one of the most popular actors on the mainland, he also made big changes in his private life, becoming a husband and father.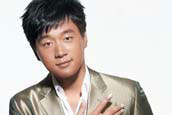 The lead role in the TV series Fen Dou (Strive) brought Tong to the peak of his career so far and won him countless awards. The character he played, Lu Tao, was widely considered as representing those born in the 1980s.
To the surprise of most - and the disappointment of his many female fans - he announced his wedding in April. He explained his decision by saying he wanted to fulfill a promise he made to his bride, Guan Yue, whom he fell for eight years ago. Shortly after the wedding, Guan bore him a daughter and completed his sudden transformation from immature boy to responsible man. Ironically, it ended up winning him more fans, more support and therefore more golden opportunities, like working with John Woo in Red Cliff II.
Q: Self-rating for 2008?
A: I don't think a number can reflect my 2008. If you asked me to use an adjective, I would say "perfect". What I gained and how I felt in 2008 was perfect.
Q: Personal goals for 2009?
A: I will spend some time traveling with my family, especially my little daughter.
Q: The ox's best features?
A: The ox is hardworking, diligent and serious. I think I, too, am dependable.
Tan Dun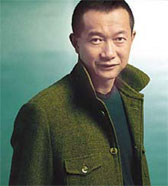 The world-famous and multi-dimensional composer conducted the China Philharmonic Orchestra in its performance of his First Piano Concerto Fire at the Forbidden City Concert Hall last Saturday night. It was the Chinese debut of the concerto, which was commissioned by New York Philharmonic Orchestra for piano virtuoso Lang Lang. Last April's world premiere at Avery Fisher Hall in New York had been a huge success.
Saturday night's concert also marked the release of two of Tan's DVDs in China, one featuring his Water Concerto and the other his Paper Concerto, both played by the Royal Stockholm Philharmonic Orchestra from that city's International Composer's Festival in 2007. Every year the festival selects a living composer who significantly impacts the classical music world and presents his work in depth at the Stockholm Concert Hall, the same arena used for the Nobel Prize Ceremony. In 2007, the SICF chose to honor Tan Dun.
His 2008 highlights also included his composition of the Olympic song One World, One Dream, co-composed with 14-time Grammy winner David Forster and sung by Andrea Bocelli and Jane Zhang Liangying.
He also created Gold Rings, Jade Echoes, the background music for the Olympic medals ceremonies.
In July, his opera Tea: A Mirror of Soul made its Chinese debut at the National Center for the Performing Arts.
He is now working on his Porcelain Concerto: Sound of Earth, commissioned by the Vienna Philharmonic Orchestra and scheduled to premiere in September.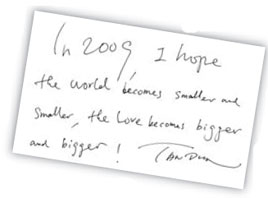 He has also been commissioned to write a piece to celebrate next October's re-opening of the Juilliard School in New York.
Q: Self-rating for 2008?
A: Eight out of 10. Actually I often give myself marks because I am pursuing perfection and always trying to do better.
Q: Personal goals for 2009?
A: I want to adopt a daughter. I have two boys and now I hope to have a girl. Since I am too old to make a daughter, I'd like to adopt one!
Q: The ox's best feature?
A: Humility.
Ning Hao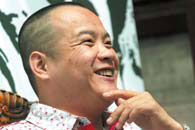 The 32-year-old director of two independent films and music videos became an icon among young moviegoers in 2006 with The Crazy Stone (Fengkuang de Shitou), a small- budget black comedy that was a hit both at the box office and among critics.
Crazy Racer (Fengkuang de Saiche), his latest work, features multiple characters and intersecting storylines, a fresh style among Chinese directors. An unemployed cyclist, two stupid thieves, a sex-enhancement medicine salesman and a group of gangs find their lives interwoven in a comic and complex way.
The film was released on Wednesday.
Q: Self-rating for 2008?
A: I give myself a six. I have been working on Crazy Racer since July 2007, so there were no new projects for me in 2008. But I spent a lot of time reading, learning and thinking - so I think I still get a pass!
Q: Personal goals for 2009?
A: My biggest wish is go somewhere quiet and have a rest.
Q: The ox's best features?
A: The ox is down-to-earth and steady, character traits I appreciate very much.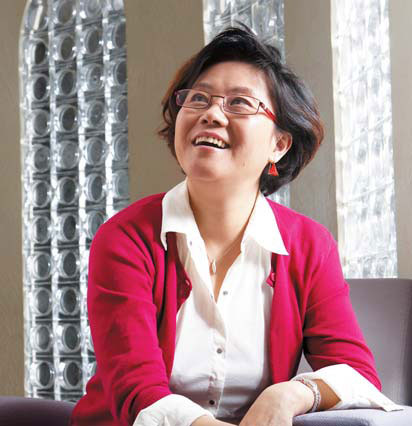 Li Shaohong
It has not been a straightforward 12 months for the productive and award-winning TV and movie director.
Best known for her depiction of women's fates in different times, Li is working on a TV series adaptation of A Dream of the Red Mansions (Honglou Meng), a classic Chinese novel on a big family's ups and downs.
An Internet backlash on the casting of the lead roles and debate on whether the characters' costumes were faithful to the beloved book dragged her into a storm but she fired back at her critics and soldiered on.
Q: Self-rating for 2008?
A: I give myself a 12. The year 2008 was the hardest year for me because of the Red Mansions. I needed more than 100 percent passion, devotion, patience and unswerving effort. I needed to work like an ant to overcome the social pressure and fulfill the tremendous task. The difficulties were numerous. Physically and mentally it has been the most demanding project in my 20 years of making TV series and movies.
Q: Personal goals for 2009?
A: My only goal for 2009 is Red Mansions because this year will see it come to fruition. It will realize the dream of all those who love the book.
Q: The ox's best features?
A: I was born in the Year of the Sheep but I think I have something in common with the Ox, whose biggest enjoyment comes from work. Work is rewarding to me.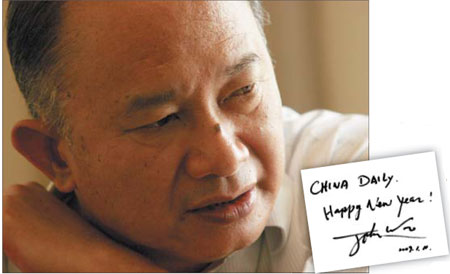 John Woo
It's been a time of great relief and vindication for the director of Red Cliff (Chi Bi), at $70 million the most expensive Chinese film ever.
The first episode of the year's most publicized film in China has already grossed about $100 million globally and Red Cliff II is on release.
The war epic is based on Romance of the Three Kingdoms (Sanguo Yanyi), a classic novel whose plot and characters are as much a part of Chinese culture as Shakespeare is in the West.
Even for an action specialist whose CV includes The Killer and Face/Off, the project was a big challenge. With Woo's passion, talent and the efforts of an excellent team, it was a case of "all's well that ends well". The blockbuster movie has not only been a box office smash, it has also created a new style of Chinese costume epic, neither dark nor heavy.
Q: Self-rating for 2008?
A: I rarely mark myself but if I was summarizing my work in 2008, I would give my team a full score. It was their unremitting efforts that realized my dream of the Three Kingdoms. For myself, maybe 7 is enough.
Q: Personal goals for 2009?
A: I made my wife a promise that I have not realized so far - to take her on a honeymoon. But the place we go to may be still related to my work. We will have a belated honeymoon while looking for a location for my next film.
Q: The ox's best features?
A: My wife's family name is actually Niu, which means ox, and she shares many characteristics with the animal, like her dedication to family. She takes care of our children and never complains, so I can work with 100 percent devotion. I am very thankful to her. Many people describe a stubborn person as an ox, but in my opinion, an ox stands for perseverance and toughness. In this sense, I am also a bit like an ox.
(China Daily 01/22/2009 page18)