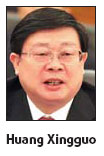 TIANJIN: Tianjin will strengthen financial reform and innovation this year and launch two major development funds for the shipping and aviation sectors, in line with it being one of the test beds for national reform, the municipality's mayor said yesterday.
"We will deepen our comprehensive reform in an all-around manner, facilitating reform and innovation within the financial sector. We plan to set up shipping and aviation funds," Mayor Huang Xingguo said in his address to the second session of the 15th municipal people's congress.
To that effect, the National Development and Reform Commission (NDRC), the country's top economic planner, has approved Tianjin's application to raise a 20-billion-yuan ($2.93 billion) shipping industrial fund.
The fund is now being prepared for launch, Li Weibin, head of the China Development Bank's Tianjin branch, told China Daily.
The planned aviation fund is still waiting for approval from the NDRC, Li said.
But the aviation fund might not be approved by the NDRC by this year, given the current economic challenges, a Tianjin government official told China Daily on condition of anonymity.
"There are also difficulties facing the shipping fund because of the current sluggish demand in shipping. But it can start low for example, at 2 billion yuan," the official said.
The shipping fund is expected to fuel financing for the country's shipbuilding industry and facilitate the formation of international shipping and logistic centers such as Tianjin, analysts have said.
Financial innovation holds the key to fueling the development of major projects of Tianjin, China Development Bank's Li said.
In developed countries, due to the relatively mature fund and capital markets, the proportion of direct financing is said to be able to reach 50 percent or even higher. But the figure is only 10 percent in China, analysts said.
Many consider the problems arising from the lack of direct financing to affect the healthy development of the economy, when businesses having financial difficulties cannot obtain capital effectively.
"We will spare no effort to increase the ratio of direct financing, develop private equity funds and introduce all categories of financial institutions," Huang said.
(China Daily 01/12/2009 page3)