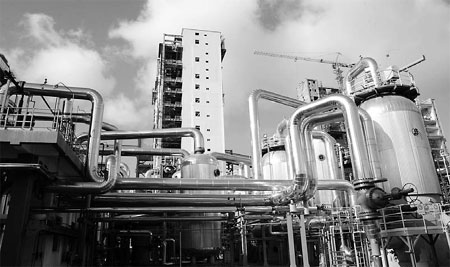 A coal-to-liquids plant operated by Shenhua Group in Ordos, Inner Mongolia autonomous region. Zou Tinglong
Shenhua Group, the country's biggest coal producer, will expand the capacity of its direct coal-to-liquids (CTL) project to three million tons a year once its technology has tested sound in trial operations, the company's Chairman Zhang Xiwu said yesterday.
Shenhua launched a trial operation of its first completed direct CTL facility, also the first of its kind in China, in Inner Mongolia about eight days ago, and it had already started to produce quality fuels and chemical products on the second trial day. "So far, the trial goes without any problems," said Zhang.
The company will do another trial in May and after that its production will be normalized.
The 10-billion-yuan direct CTL facility is capable of producing one million tons of fuel annually. "We will add another two production lines alongside the first one to expand the project's capacity to three million tons a year and the total investment will be more than 30 billion yuan by then," said Zhang.
"With the success of this CTL project, China becomes the first country in the world with the core competence to build a direct CTL project capable of producing one million tons of fuels annually," he said.
Zhang compared the company's direct coal liquefaction technology to the satellite monitor technology demonstrated in the successful mission of China's third manned spacecraft Shenzhou VII last September.
"This technology could raise coal efficiency by at least five times and the production process is almost zero-polluting," he said.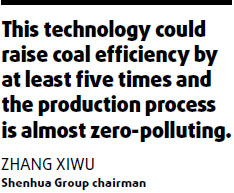 According to the company chairman, fuels produced in the trial operation are free from sulfur and would be cleaner than the fuels of Euro V emission standard.
Debates about the viability of CTL projects have been ongoing as international crude prices dropped from a record $147.27 a barrel in last July to as low as $33.87. Oil price closed at $48.08 yesterday.
Shenhua Group completed the feasibility study of the direct CTL project in 2001 when international oil prices were about $23 a barrel, according to Zhang Yuzhuo, Shenhua CEO.
"At current prices, the project is still economically viable," he said, quoting the popular belief that a CTL plant needs an oil price of $40 or more to be safe from financial risks.
"For the benefit of this project, we hope crude prices would remain above $60 a barrel in the long run," said Zhang Yuzhuo.
Zhang Yuzhuo refused to release the cost for generating each barrel of fuel, saying the number is not available so far due to fluctuating coal and crude prices.
It is one of only two coal-to-liquids projects that have won approval from the National Development and Reform Commission which issued a notice to suspend other CTL projects in September.
(China Daily 01/08/2009 page14)