The United States opened its new embassy building in Baghdad yesterday, a step meant to symbolize its transition from occupying power to an ally of a sovereign Iraqi government.
In recent weeks US diplomats have gradually moved into the $592 million newly-built compound, the world's largest US embassy building, leaving behind a sprawling palace they had inhabited since toppling Iraqi leader Saddam Hussein in 2003.
US officials ruled Iraq directly from the same palace for more than a year after taking Baghdad.
The opening of the new embassy is in line with a change of power that was effected on New Year's Day, when US forces in Iraq officially came under an Iraqi mandate.
US Deputy Secretary of State John Negroponte and Iraqi President Jalal Talabani attended the opening ceremony.
In a courtyard between two wings of the new building, the Iraqi national anthem was played, then US Marines raised an American flag to the tune of the Star Spangled Banner.
"It is from here men and women, civilian and military, will help build the new Iraq," Negroponte said in a speech.
US ambassador Ryan Crocker called the embassy's opening "a new era for Iraq and United States relations".
Talabani thanked the United States for helping create a democratic Iraq "which will serve as a model for other peoples of the eastern world".
1,200 employees
The embassy has 1,200 employees, including diplomats, servicemen and staff from 14 federal agencies, US embassy spokeswoman Susan Ziadeh said.
"Its scale reflects the importance of the US-Iraq bilateral relationship," she said. "It reflects a more normal situation. This is a broadening of the relationship because the situation is more secure."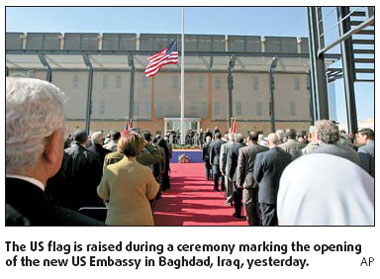 US forces on New Year's Day handed over responsibility to Iraqi troops for the Green Zone, a fortified compound in the heart of Baghdad off limits to most Iraqis, who have widely viewed it as a symbol of foreign military occupation. The new embassy is located in the zone.
The US force in Iraq, now more than 140,000 strong, had previously operated under a UN Security Council resolution.
US troops now work under the authority granted by the Iraqi government under a pact agreed by Washington and Baghdad.
That pact - viewed by both countries as a milestone in restoring Iraqi sovereignty - requires US troops to leave in three years, revokes their power to hold Iraqis without charge and subjects contractors and off-duty troops to Iraqi law.
Ziadeh said the mission of the new embassy would start to resemble those in other embassies around the world.
"Our work is looking at a whole range of issues on trade, on energy ... transportation sectors, rule of law," she said.
'2009 key for Iraq'
Iraq has made tremendous progress over the past three months but the United States must remain engaged over the long term if it wants those gains to solidify, the US ambassador to Iraq said.
Crocker said 2009 would be a key year for Iraq as it holds two crucial elections that will determine if democracy will take hold.
Crocker recently spoke about the need for Americans to view Iraq with "a sense of strategic patience" because the stakes in the region are so high. If the US were to turn its attention elsewhere, he told the AP in September, then America would pay what he described as a "major long-term price."
Agencies
(China Daily 01/06/2009 page12)