Heads up on bike safety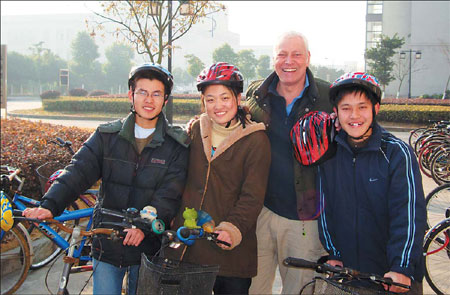 David Scott has already sold 100 helmets on his Wuxi university campus. Photos courtesy of David Scott
Former movie director David Scott's new project in China is bigger than Ben Hur. Skeptics would say his work is more like Mission Impossible. The English language teacher wants the world's biggest group of cyclists to use their heads and wear safety helmets.
So far his safety campaign has covered the heads of 100 Chinese riders. Considering there are more than 700 million cyclists in the Middle Kingdom, the lively teacher has a way to go.
But the 62-year-old Canadian believes his campaign in Wuxi, Jiangsu province, will snowball into something bigger and has already attracted local television coverage.
"From here I'm going to tackle all of China," Scott says. "With the one-child policy, there isn't a mother in China who wouldn't put a helmet on her kid if she were only told that it's a good idea."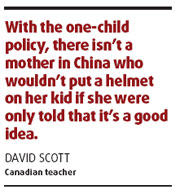 Scott, a keen cyclist himself, moved to China four years ago and noticed, like many expats do, that he was the only rider wearing a helmet.
He became very disturbed after he discovered that China had seven times more fatal bicycle accidents per rider kilometer than America and Europe.
His concern triggered his helmet campaign, which he initially saw a golden business opportunity.
"If I were a businessman, I'd keep this idea under my hat, start my own brand, work up the ads, finance a good business plan, and make a billion yuan overnight," he says.
"All it would be one guilt-inducing television advertisement, and every mother in China would be buying a helmet.
"They only have one child. Show them what brain damage looks like and sales would go through the roof.
"It was tempting. But I'd rather just see the helmets on Chinese heads.
Scott started buying and selling bike helmets on Jiangnan University campus last month and is selling them for 10 yuan each, which is about cost price.
"I can't believe that these helmets are made in China, but shipped to America and Europe while the Chinese ignore the largest market in the world.
"I'm practically giving them away, but that's what it will take to get this going. I've already ordered another 100."
Scott hopes to create a bicycle safety culture from scratches and believes it will catch on.
"If I can keep this up for 10 months, there will be a thousand helmets on this campus, and students will no longer feel like they stand out from the crowd if they wear one, which at the moment is the major sticking point with them."
In fact, selling the first 100 helmets has proved there is interest in bicycle safety despite warnings from his students that his plan was doomed to fail.
"They all told me that I couldn't sell any helmets to students, that nobody would wear them, that they didn't think they were necessary, that they didn't like them," he says.
"So this is totally new. I've been trying to get attention for the very idea, and I've been hoping that the administration of this university would wake up and take notice.
"I'm sure they will all get on board once they are presented with the idea. But right now... It's just me. That's because I'm just getting started and the very idea is strange and new here."
But it is not just university students buying the idea. Scott has also reached company executives, who also happen to be mothers. "I told them about my helmet campaign and accidentally sold three helmets. I would have sold four, but one of the mothers didn't have a bike."
To promote the campaign, Scott has run helmet design competitions, and one of the most popular designs featured a tiara attached to helmet. "Now I'm looking for a chance to buy some more tiaras. I'm waiting to get my hands on a clown fright wig, so I can add that to a helmet and one of my Chinese student friends is named Panda, so I'm making her a panda head helmet."
Before moving to China, Scott spent 30 years in the film industry in Canada, directing and producing television and movies under the professional name of Zale Dalen.
"It was a great career and I had a lot of fun, but I burned out on the stress and tension of freelancing and making things I was embarrassed to have anybody watch, feeding the in-satiable television mediocrity machine," he says.
"I wanted a change, and, as they say in the movie business, 'go big or go home'."
Going to China was about the biggest change Scott could find.
Scott's background is as interesting as any one of his TV dramas.
He was born in the Philippine Islands and his father was a Saskatchewan oil-company worker and his mother was a Manila debutante, born in Kowloon, Hong Kong, the daughter of a British Navy officer.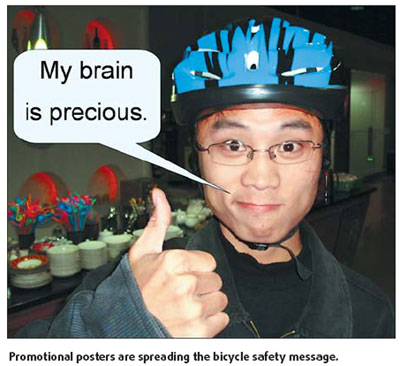 Scott's parents met in Santo Thomas prison camp where they were prisoners of the Japanese for three years. He grew up in Canada, mostly in Vancouver, but also spent quite a bit of time in Toronto, and always had an eye on China.
But in recent years the attraction became stronger and he made a decision to relocate to the "most exciting country on the planet".
"Between the opening up policy, the WTO, the Olympics, the space program, Yao Ming on the NBA, and the booming economy, China has just been buzzing with optimism," he says.
"I also wanted to learn another language, and starting the language with the greatest number of speakers seemed like a good idea.
"I admit I didn't expect to like China anywhere near as much as I do. In fact I came here with great trepidation and low expectations. But there's another saying in the film industry: 'Why would I do it if I wasn't afraid of doing it?'
"I think if we want to live to the max we have to face our fears and what a surprise. Coming to China was the best decision I ever made, for all kinds of reasons."
Scott is a keen musician and has been practicing the violin for 30 years. He fell in love with the erhu, which has similar tuning to the violin. He also likes to play traditional Chinese games.
"I've become a xiangqi (Chinese chess) enthusiast and now play everyday over the Internet with a guy in England who was one of the founders of the British Chinese Chess society," he says. "I won the first game, but I guess that woke him up. Haven't won a game since."
Scott has also found romantic love and after only a month after arriving met Ruth Anderson, from Winnipeg, Canada, and the couple have been together ever since.
"We now share an apartment on campus and consider ourselves to be a teaching team," she says. "She's very smart, and we are amazingly "sympatico", Scott says. A friend of hers in Winnipeg observed: "I've never seen one person in two bodies before."
(China Daily 01/05/2009 page10)
Today's Top News
Editor's picks
Most Viewed