Six people accused of illegally producing or selling toxic chemicals that killed six babies and sickened 290,000 others went on trial on Friday in Hebei province.
Tian Wenhua, the former head of Sanlu Group, the firm at the center of the tainted milk scandal, will also stand trial next Wednesday, according to an announcement from the Intermediate People's Court of Shijiazhuang.
Among the six people charged on Friday, Zhang Yujun and Zhang Yanzhang were accused of "endangering public security".
According to the Criminal Law, the highest penalty for such a crime is death.
Prosecutors said that, from last October to this August, Zhang Yujun produced 775.6 tons of "protein powder" that contained the toxic chemical melamine, and sold more than 600 tons of it with a total value of 6.83 million yuan ($998,000).
Zhang Yanzhang was accused of buying 230 tons of the "protein powder" from Zhang Yujun.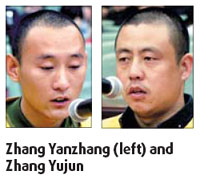 Prosecutors said both Zhangs were "fully aware of the harm of melamine" while they produced and sold the product.
The powder was then resold to private milk collectors in Shijiazhuang, Tangshan, Xingtai and Zhangjiakou in Hebei, and some collectors added it to raw milk to make it appear to have a higher protein content in quality tests.
The milk was then sold to Shijiazhuang-based Sanlu Group, and used to produce baby formula that killed six infants and caused kidney problems for 290,000 others, according to figures from the Ministry of Health.
"The production and sale of the 'protein powder' severely harmed the health of the people, especially babies. Both suspects should be charged for harming public security by dangerous means," the indictment said.
Also on Friday, four others went on trial in three courts in Wuji, Xingtang and Zhaoxian counties in Hebei for "illegally producing and selling toxic food products", a charge slightly lighter than "endangering public security" but one that could also result in the death penalty.
Zhang Heshe and Zhang Taizhen were accused of adding 35 kg of "protein powder" to 70 tons of raw milk and selling the tainted milk to Sanlu, the Wuji county court heard.
Yang Jingmin and Gu Guoping were each charged with adding 24 kg of the additive to 40 tons of milk and 16.7 kg to 120 tons. They also sold the adulterated milk to Sanlu, according to the local courts.
No verdicts were announced on Friday.
In addition, Tian Wenhua, Sanlu's former board chairwoman and general manager, will go on trial on Dec 31 at Shijiazhuang Intermediate People's Court.
According to a court announcement, Tian will be charged with "producing and selling substandard products". The Criminal Law stipulates that if defective products cause any death, the criminal could face capital punishment.
A central government investigation team found that Sanlu continued producing and selling the toxic baby food even after it was aware the products were tainted at the start of the year.
Sanlu ceased production on Sept 12. The firm, facing 1.1 billion yuan of debt, has filed for bankruptcy.
China Daily - Xinhua
(China Daily 12/27/2008 page1)