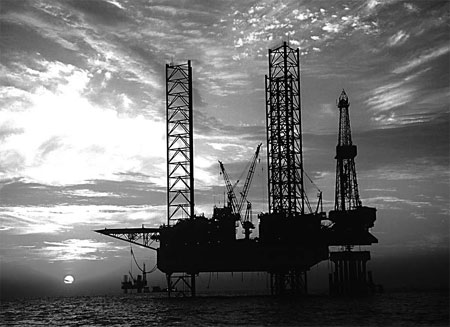 A CNOOC rig in the Bohai Sea in Northeast China. Ding Jian
China National Offshore Oil Corp (CNOOC) may post a loss from its crude oil business since October due to the sharp fall in global crude oil prices, according to an industry insider.
CNOOC exploration cost for each barrel of crude in October was around $65, while global prices fell, an official with China Petroleum and Chemical Industry Association was quoted as saying yesterday by Shanghai Securities News.
China's largest offshore oil company is also considering shutting down some wells to reduce losses, said the official, who declined to be named.
A spokesman from CNOOC yesterday declined to comment on the report and said the company's production cost will be presented in its annual report.
According to the 2007 annual report of CNOOC's listed arm CNOOC Ltd, the company's production cost for each barrel of oil was $16.37.
"Besides production cost, CNOOC's total cost for each barrel of oil includes many other factors such as management expenses and taxes. It would be much more than $16," said Han Xuegong, an energy analyst who previously worked in one of China's leading oil companies.
Han agreed that CNOOC's total cost for one barrel of oil is "around $65".
The country's third-largest oil producer had earlier said it would invest 200 billion yuan on oil and gas exploration in the South China Sea in the next 10 or 20 years and build up a production capacity with annual output of 50 million tons, equivalent to that of China's biggest oil field, the Daqing Oil Field.
The Beijing-based CNOOC Ltd said its total revenue in the third quarter rose 69.1 percent over same period last year to 30.9 billion yuan.
The company's oil and gas revenue for the third quarter was 30.5 billion yuan, up 67.9 percent from a year ago. For the first three quarters, the company's total oil and gas revenue hit 84.95 billion yuan, a year-on-year increase of 65.3 percent.
Soaring oil prices in the first three quarters and rising oil and gas output contributed to the bulk of the revenues for the oil producer.
The shrinking global demand amid the economic turmoil saw the growth of China's petroleum and chemical industry slowing in November, according to the industry association.
Output value rose just 0.8 percent year-on-year to 484.25 billion yuan, according to China Petroleum and Chemical Industry Association. That was 28.1 percentage points lower than the year-earlier level and down 17.7 points from the previous month.
The total included 260 billion yuan generated by the chemical sector, down 1.5 percent, and 68 billion yuan by the oil and gas extraction sector, down 1.2 percent.
The two sectors' growth rates were 30.5 percent and 34 percent, respectively, for the same month last year.
(China Daily 12/25/2008 page14)