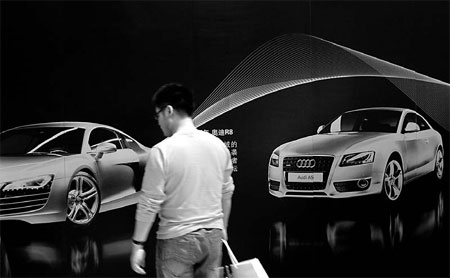 A visitor to an auto show in Nanjing walks past a Volkswagen billboard. Su You
German auto giant Volkswagen denied rumors yesterday that it will suspend production for almost one month to ease its high inventory, saying it is confident the company will meet its sales target in China this year.
"Volkswagen's two joint ventures in China are working on the right track currently," said Rudolf Dreithaler, public relations manager with Volkswagen Group China. He told China Daily that the report of a production halt between late December and mid-January "is not true". "Volkswagen won't stop production in China," He said.
Over the weekend, some Chinese media reported that Volkswagen is planning to halt vehicle production in its two Chinese joint ventures as a way to ease inventory pressure in response to slowing sales.
"The two joint ventures have finished our 2008 production target of 1 million units in China," said Molly Yang, director of corporate communications. Yang said Volkswagen Group China and its two joint ventures' decision to arrange maintenance work during Christmas and New Year holidays is routine procedure.
"This had absolutely nothing to do with the financial crisis. The industry downturn makes people too sensitive," said Yang.
She said Shanghai Volkswagen will suspend the production line for maintenance only for three days, during Christmas holidays. As a German enterprise, Volkswagen has two days off for Christmas every year. It will also upgrade some parts of the production line for the new models next year.
Yang said the routine maintenance will "take a little bit longer time" at FAW-Volkswagen.
"And we are arranging the maintenance only for the facilities in need of the inspection and repair. The manufacture in our Audi production line in Changchun and a new plant in Nanjing won't be blacked out," said Yang.
Statistics from China Association of Automobile Manufacturers (CAAM) show that in the past 11 months, FAW-Volkswagen and Shanghai Volkswagen sold 467,343 and 442,937 units, respectively.
Zhu Yiping, an official with CAAM, said automakers in China produced about 8.7 million automobiles and sold more than 8.6 million from January to November. The inventory was at a reasonable level.
But she acknowledged some companies had begun reducing production as sales declined.
China posted the third monthly decline in car sales this year in November, with 522,800 units, down 10.28 percent from a year earlier. Sedan sales slipped 10.94 percent year-on-year to 389,600 units.
(China Daily 12/16/2008 page14)