The Battle of Hong Kong began on December 8, 1941 and ended on Christmas Day with the Japanese finally occupying the land.
British, Canadian and Indian troops, supported by the Hong Kong Volunteer Defence Forces fought bravely against the invaders but were outnumbered three to one. The Japanese had 52,000 troops to the Allied force of 14,000.
On the first day of the battle Japanese bombers struck a hefty blow destroying most of the military planes at Hong Kong's Kai Tak Airport.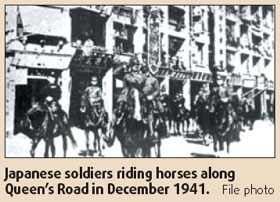 The Commonwealth forces set up three battalions in the Gin Drinkers' Line across the hills but these defenses soon fell over the following days. The evacuation from Kowloon began on December 11, under aerial bombing and artillery barrage. Japanese troops crossed the harbor on December 18 and landed on the north east of the island.
Fighting continued on Hong Kong Island. There was a massacre of prisoners in the Salesian Mission on Chai Wan Rd.
On the morning of Christmas Day, Japanese soldiers entered the British field hospital at St. Stephen's College, and tortured and killed more than 60 injured soldiers and medical staff.
By the afternoon, the Governor of Hong Kong, Sir Mark Aitchison Young, with other British officials, surrendered in person at the Japanese headquarters. This day is known in Hong Kong as "Black Christmas".
China Daily
(China Daily 12/08/2008 page10)