Endeavour lands in California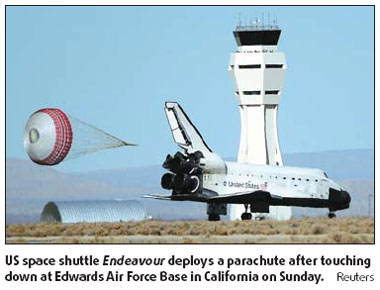 The astronauts from the space shuttle Endeavour headed for a delayed reunion with their families yesterday in Houston a day after touching down safely in California following a nearly 16-day mission to repair and upgrade the international space station.
Stormy weather at the shuttle's main Florida landing site forced controllers to divert Endeavour and its crew of seven astronauts across the country to Edwards Air Force Base, where it glided to Earth on Sunday afternoon.
The shuttle program's 124th mission remodeled the space station, doubled its crew capacity to six and repaired a rotating joint on a solar wing.

Today's Top News
Editor's picks
Most Viewed