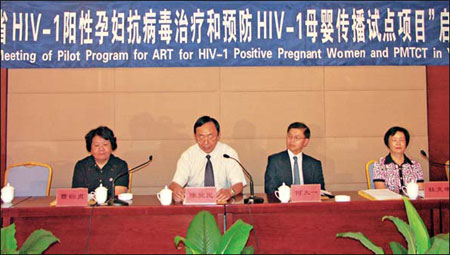 Chen Juemin (second from left), director general of Yunnan provincial health bureau, with Dr David Ho (third from left), director of ADARC, at a meeting to launch the PMTCT project
Nondiscrimination against HIV carriers and AIDS patients is key to prevention and control of the disease, said Fan Yishan, director of the Yunnan AIDS Care Center.
"Care should be rendered to HIV positive people so that they can willingly open themselves to treatment, which is another kind of protection for the society," he said.
National laws and regulations of the Yunnan province on prevention and control of the disease all stipulate that there should be no discrimination against these patients. Yet social understanding still lags behind.
Even the construction of the center was full of controversy at the beginning because people were not fully aware of the ways of infection.
Live broadcasts and photos of President Hu Jintao shaking hands with AIDS patients in a Beijing hospital on December 1, 2004 have changed the minds of many and encouraged medical staff at the center greatly.
"At our center, dining together with patients helps remove discrimination against them and their psychological burden," Fan said.
Inside the center, Dr Yang Xinping shows visitors around as patients talk with ease, now and then saying hello to visitors.
"The relationship between the doctor and the patient is unusual here," Yang said. "It's a kind of cooperation."
It is crucial to treatment but difficult to carry out for the patients to follow orders in taking medicine and receive other kinds of assistance.
"It's like many young people who know of bad habits but can't get rid of them," he said.
The center has psychologists and lessons. The staff are also taking psychological courses to relieve their own burden and to help patients be at ease.
A happy-looking girl jumped out of a room, addressing Dr Yang, who noted both the girl's parents had died and she is HIV positive as well. "But the medical staff here like her a lot and often bring her toys," Yang said.
China Daily
(China Daily 12/01/2008 page10)