French President Nicolas Sarkozy said the government and a state-owned lender will raise 6 billion euros ($7.6 billion) to create a sovereign fund aimed at protecting and developing the country's "strategic companies."
The state will also endow the fund with 7 billion euros in minority stakes it already owns, including 15 percent in carmaker Renault SA and its holding in Air France-KLM Group. State-owned bank Caisse des Depots & Consignations will also add about 7 billion euros in assets to the fund.
The creation of the fund is aimed at implementing Sarkozy's plan, announced last month, of protecting strategic French companies from "foreign predators" and helping them survive the global financial crisis. The turmoil has wiped out about 45 percent of the value of the benchmark CAC 40 index, choked bank lending and left businesses struggling to find financing.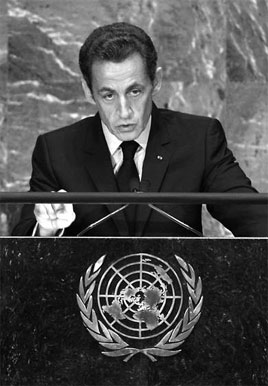 French President Nicolas Sarkozy speaks at the 63rd annual United Nations General Assembly in New York. Bloomberg News
"I won't let foreign funds get bargains thanks to the current levels of the stock market," Sarkozy said yesterday near Tours, central France. "I won't let French industry move out."
In its first purchase, the fund will invest in Daher, a family held maker of equipment for the airplane, nuclear, defense and auto industries. The fund, together with an aerospace investment group called Aerofond will put 85 million euros into Daher, its Chief Executive Officer Patrick Daher said yesterday. The capital will help it invest 200 million euros more in the next five years to build parts for Airbus SAS, Dassault Aviation SA and other aerospace companies, he said.
Fund assets
The French government has said it will bring its 33-percent stake in Chantiers de l'Atlantique shipyard to the fund. It won't add to the fund its majority or controlling stakes in energy companies GDF Suez SA, Areva SA and Electricite de France SA and French airport operator Aeroports de Paris, said a Sarkozy aide, who briefed reporters on condition he not be identified.
The government will also continue to manage holdings in defense companies Safran SA, Thales SA and European Aeronautic, Defence & Space Co through Agence des Participations de l'Etat, controlled by the finance ministry, the aide said.
Caisse des Depots will include in the fund its holdings such as hotel operator Accor SA, water company Veolia Environnement SA, realtor Icade SA and construction company Eiffage SA, according to the aide. CDC's stakes in life insurer CNP Assurances SA and in French-Belgian bank Dexia SA won't go in the fund.
Fund management
The French government will own between 34 percent and 49 percent of the fund, depending on whether institutional investors want to invest in it, the aide said. CDC will own just above 50 percent of the fund.
The fund's seven-member management board will include a chairman, two state representatives, two CDC representatives, and two independent people. It will have a strategic committee with about 20 members, including economists.
Augustin de Romanet de Beaune, who heads CDC, will lead the fund's executive board, Sarkozy said, adding that Sanofi-Aventis Chairman Jean-Francois Dehecq will head its orientation committee and Patricia Barbizet, chairman of Societe Francaise d'Investissements Immobiliers, will be head of the investment committee.
The fund won't invest in companies that are not viable, Sarkozy said, adding that it will have the independence to ensure it makes return on its investment. The structure of fund's financing will allow CDC to keep its top-notch credit rating.
Not forever
The fund's "mission matches the long-term investment strategy of Caisse des Depots," the lender said in an e-mailed statement. The fund will invest in companies for about 2 to 10 years, according to the Sarkozy aide, who said it will take majority stakes in companies only in very rare cases.
Agencies
(China Daily 11/21/2008 page17)