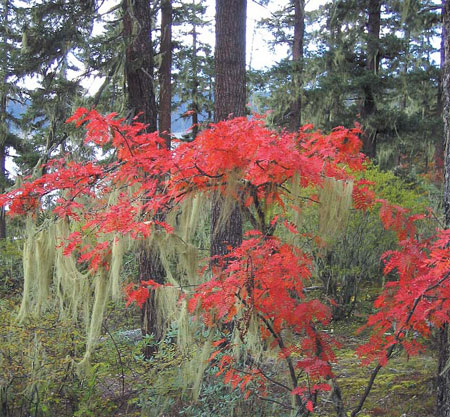 Colorful autumn foliage is one of the best sights in Potatso National Park.
China already has hundreds of nature reserves, scenic areas or forest parks, so why we do still need a "national park"?
This is a question Chen Jie, Yunnan Program director of The Nature Conservancy (TNC), is often asked while promoting conservation concepts.
China has nearly 500,000 sq km of nature reserves, the largest in the world, ahead of the United States, Russia, Australia, Mongolia and Brazil.
"But because of limited investment and immature management mechanisms, many of our reserves have not had boundaries drawn yet and 30 percent of them have no administration," he says.
"As a result, many of them are actually still reserves just on paper."
He says nature reserves have strict commercial development restrictions, which actually limits the development of surrounding communities.
"As most of our reserves are located in the country's comparatively poor regions, this has intensified the contradiction between conservation and development," he says.
As a direct result, only one or two counties in Yunnan applied for new reserves in the last three years.
"The local governments worry the reserves will restrict their development and become a burden."
Meanwhile, the country's scenic areas pay little attention to conservation, instead concentrating on tourism development.
Chen and his colleagues say a "national park" might be a better solution.
Initiated by American artist George Catlin, Chen says, national parks have emphasized both conservation and the achievements of conservation. The world's first national park, Yellow Stone National Park, was established in the United States in 1872. Now there are more than 9,800 national parks around the world.
"We feel that national parks, as a new type of protected area, can balance the relationship of conservation and development in China, and they will complement the existing nature reserve system," he says.
But why in Yunnan, especially northwestern Yunnan?
First, Chen says, biodiversity in the province is the richest in the country. More than 7,000 of Yunnan's 16,000 higher plants can be found in northwestern Yunnan, and a large part of the region has been listed in UNESCO's world nature heritage sites, as the "Three Parallel Rivers" site.
In the past decade, the region has experienced a boom in tourism producing a profound, but mostly negative impact on the local environment.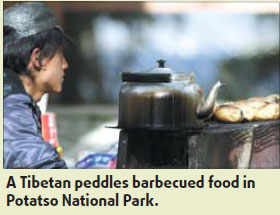 "The ecological tragedy at Shudu Lake isn't rare," Chen says.
Meanwhile, he says, Yunnan provincial government and local governments, such as Lijiang and Diqing, have received the concept and been "very active in promoting it".
In August 2008, Yunnan Provincial Administrative Office of National Park was established in the provincial forestry department. Besides Potasto National Park, Chen and his team have started helping Lijiang and Diqing build up two more national parks, Meili Snow Mountain and Laojun Mountain national parks.
In the two parks, Chen and his colleagues are helping the local governments draw out a national park legislative framework to ensure the legal status of national parks in the country, establish a management system, train staff and launch community participation projects.
TNC has also helped Gongshan county in Nujiang prefecture set up a project office to initiate the establishment of Bingzhongluo National Park on the upper reaches of Nujiang River.
Because of the successful case of Potasto National Park, a dozen cities and counties in Yunnan have applied to the provincial forestry department for establishment of national parks.
"But there is no shortcut to become a national park. We can't put up a new signboard and declare we are a national park," Chen says.
"How to build up a set of application and approval standards and prevent national parks from being turned into just another form of tourism promotion are my main concerns at this moment."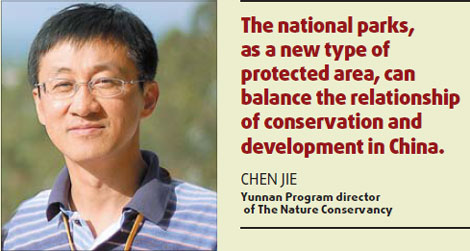 (China Daily 11/11/2008 page18)