GUANGZHOU: In a sign of the slowing global economy, more than 1,300 companies shut down, suspended business or moved their factories out of the Pearl River Delta in the first nine months of this year, a senior government official has said.
"About 627 firms in Dongguan and more than 700 in Shenzhen closed, suspended or moved their factories from January to September," Wu Jun, deputy director-general of the department of foreign trade and economic cooperation of Guangdong province, told China Daily over the weekend.
The number of affected businesses in the province is probably "much larger" since many other cities have not reported their figures, Wu said.
The financial crisis that has been afflicting the world has also seriously affected the economic development of Guangdong, whose economy relies significantly on import and export, he said.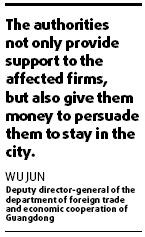 The negative impact of the slowing global economy emerged as early as the beginning of last year, he said.
In the delta region, about 30 percent of overseas-invested firms, including ones from Hong Kong, Macao and Taiwan, are losing money, Wu said. About half of them can barely balance their income and expenses, with only 20 percent seeing slight profit.
This compared with as many as 90 percent of the firms making considerable profit during good times, he said.
The increase margin of export volume of the first nine months already dropped by 13 percent from the same period last year, he said.
The reduction of export volume directly caused foreign investors to lose confidence and desire to invest in Guangdong.
Similarly, from January to September, contractual foreign investment in the province fell by 12 percent from the same period of the previous year.
Wu said he expects the negative economic impact will last till the end of next year.
Provincial and municipal authorities are rolling out a slew of measures to help affected companies with the crunch.
In Dongguan, which has more than 15,000 overseas-invested companies, local authorities have allocated 4 billion yuan ($588 million) to help firms cope with the financial fallout.
"The authorities not only provide support to the affected firms, but also give them money to persuade them to stay in the city," Wu said.
Measures are also being taken to help workers affected by the economic woes.
Smart Union Group (Holdings) Ltd, a leading toy manufacturer in Hong Kong, had to close down its two factories in Dongguan last month, causing thousands of workers to lose their jobs and be owed months of salary.
The local government had to spend 24 million yuan to cover the defaulted wages of the company, Wu said.
Michael Wu, chairman of the Association of Enterprises with Taiwan of Guangzhou, said part of the firms' difficulties come from the overly tight policies, such as those under the labor law and taxation.
Wu Jun said: "I appeal to the central government to implement some looser and more favorable policies to help the overseas-invested SMEs survive in the recession."
(China Daily 11/11/2008 page5)