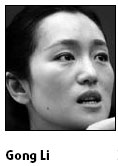 Popular Chinese actress Gong Li has taken up Singapore citizenship.
The 43-year-old took the oath of citizenship with 149 others at the Teck Ghee Community Club in Singapore on Saturday.
China does not recognize dual citizenship.
The actress could not be reached for comment yesterday.
Zhang Hongsen, deputy director of the State Film Bureau, told China Daily: "It was her personal decision."
Gong rose to fame in Chinese films such as Red Sorghum, Raise the Red Lantern, before she made the successful crossover to Hollywood in Memoirs of a Geisha and Miami Vice.
She had been scheduled to collect her Singaporean identity card in August, but failed to do so.
Gong married Singaporean businessman Ooi Hoe Seong in 1996.
In August, Gong's close friend and hairstylist David Gan told the Singapore newspaper The Straits Times: "She travels a lot and it's convenient to hold a Singapore passport. A lot of stars like to stay here (Singapore) too. There's no paparazzi. When I walk down Orchard Road with Gong, nobody notices."
Singapore citizens enjoy visa-free access to 122 countries and territories.
To some of her fans, however, her decision is difficult to accept.
"Gong reached stardom through a series of films which have a strong Chinese imprint. She is very popular thanks to the Chinese culture behind her," netizen NCZSXJ wrote on tianya BBS.
Gong was a member of Chinese People's Political Consultative Conference (CPPCC), China's top political advisory body.
A CPPCC spokesman confirmed to a Chinese website that Gong was no longer a member, having fulfilled her two sessions since 1998. He said she will not appear at next year's conference, but this had nothing to do with her new citizenship.
A few other stars have also switched their citizenships.
Kungfu star Jet Li and director Chen Kaige are American citizens, while actress Xu Fan is Canadian.
(China Daily 11/11/2008 page4)