Economy gets $586b power dose
The government has cleared a 4 trillion-yuan ($586 billion) investment package till 2010 to spur domestic demand and boost the slowing economy.
A State Council meeting, presided by Premier Wen Jiabao, has resolved that it is necessary to adopt "proactive" fiscal and "moderately loose" monetary policies now, Xinhua reported yesterday.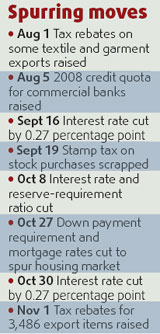 The Nov 5 statement marks an end to the previous "prudent" fiscal and "tightening" monetary policies because the economy now faces an increasing risk of slowing down further.

Today's Top News
Editor's picks
Most Viewed