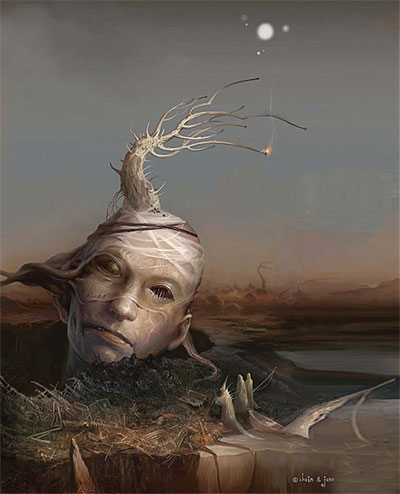 The 2008 Common Ground International Touring Collection, with original works of digital art selected from over 1,000 artists in over 40 countries will premier in Beijing at the Huan Tie Art Museum on Sunday.
"Earth is our common ground. We may be divided by borders, language and cultural identity, but we still share the same water, the same air, the same plants, and the same common ground that sustains, protects and feeds us all on this planet," said Larry Richard, the founder of Common Ground, an art platform which intends to focus global attention for environmental awareness through a unique multi-culture collection of digital art.
An international community of artists uses the expressive language they know best, visual art and design, to demonstrate their concern for the fate of the earth.
As China is the host city the organizer selected two celebrated artists to represent China.
Duan Jia, a professor at Beijing Film Academy, explains one of his works, a photo with blurred fire images, by saying that "most of us see ways in which the environment is hurt, and sometimes we are given a chance to correct our mistakes. This is how we survive and go on living in the face of overwhelming despair."
The opening reception will include works of artists from over 40 countries, a special selection of 20 gifted Chinese artists, and screenings of several innovative films, all with works focused on the environment.
The collection will embark on an international tour to galleries and museums in Europe and North America. Moreover, HP (Hewlett-Packard) has sponsored the publication of limited edition Common Ground 2008 commemorative hardcover book. Proceeds will benefit The World Wildlife Fund, Global Giving, and the Global Environmental Institute of China.
Huan Tie Art Museum, Dashanzi Ring-railway, Chaoyang District. 64350952.
www. CommonGround 2008.com
(China Daily 11/08/2008 page6)