The government is working on a national action plan to protect human rights, the State Council Information Office said yesterday.
The plan will cover such things as improving government function, expanding democracy, strengthening the rule of law, improving people's livelihoods, protecting the rights of women, children and ethnic minorities, and boosting public awareness of human rights, it said in a statement.
A panel from the State Council Information Office and the Foreign Ministry will draft the document, assisted by specialists from selected nongovernmental organizations and academia.
"The panel will carefully plan the human rights development in detail and put forward practical policies and measures," Wang Chen, minister of the State Council Information Office, said.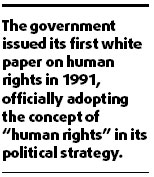 Dong Yunhu, vice-president and secretary-general of the China Society for Human Rights Studies, said: "As the first of its kind, the plan will have a major impact on development of human rights.
"Over the past three decades, China has made great progress in protecting human rights practically and theoretically, but it still needs a nationwide plan to guide where the cause should go," he said.
The government issued its first white paper on human rights in 1991, officially adopting the concept of "human rights" in its political strategy.
Since then, it has issued 40 such documents, but never a State action plan in this field.
The plan embodies the government's effort to carry out the country's "constitutional principle of respecting and safeguarding human rights", which was adopted in 2004, and the development concept of putting people first, he said.
Xinhua
(China Daily 11/05/2008 page4)