Vendors hawking handbags and fruit along downtown Accra's Liberia Road are busier than the traders five stories upstairs on the Ghana Stock Exchange.
An offshore-oil discovery, rising commodity prices and government spending on roads and other projects drove the market to a 64 percent gain this year, making it the world's best-performing bourse.
Then volume on the market fell to 23,875 shares daily over the last four weeks, a 20th of the average for the past six months. This left investors unable to flee even as stocks in nearby Nigeria declined 41 percent since March 5. On some days, almost no shares have changed hands in the Cedi House Building. "It's hard to call it a stock market because of the liquidity levels," said Don Elefson, an emerging-markets specialist at Harding Loevner Management in Somerville, New Jersey. "Ghana's a little market that gets forgotten."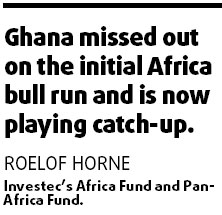 The path of Ghana's All-Share Index diverged from the Merrill Lynch African Lions Index on March 5, climbing 54 percent through Oct 29 as the broader measure of bourses started a 64 percent plunge. "Ghana missed out on the initial Africa bull run and is now playing catch-up," said Cape Town-based Roelof Horne, who helps manage $1 billion in Investec's Africa Fund and Pan-Africa Fund. Stock-market development in the country of 22.5 million, sandwiched between Togo and Ivory Coast, has trailed neighbors such as Nigeria. The Lagos exchange has 219 listed companies and a valuation of about 10 trillion naira ($80 billion) as of September, compared with Accra's 34 listed companies worth 18.1 billion cedis ($15.5 billion). Unlike Nigeria, Ghana doesn't have electronic trading, according to the market's website. Traders scribble bid and asking prices on whiteboards. That's forecast to change before the end of the year, according to the exchange's general manager, Ekow Afedzie.
Regulatory approval will come "any day now," he said in an interview. The shift may boost trading 20 percent by the middle of next year, Afedzie said.
Even before the move to so-called live trading, investment firms such as Moscow-based Renaissance Group and Investec said they'll boost holdings of Ghanaian shares if the move spurs an increase in volume."We are bullish on the impact that moving to live trading will have on the exchange," said Francis Kalitsi, a director at Renaissance's Accra office. "The move to automation will improve liquidity and volumes. More companies will see the exchange as a viable place to raise capital." Renaissance, started by 48-year-old billionaire Stephen Jennings, invested in banks and other companies in sub-Saharan Africa including Ecobank Ghana, CAL Bank Ltd and New World Investments Ltd, in which it purchased a 49 percent interest in May.
The Ghanaian exchange is dominated by shares of foreign-owned subsidiaries, including mining, oil, brewing and financial-services firms. The top 10 companies by market value, including AngloGold Ashanti Ltd, Golden Star Resources Ltd. and Ecobank Transnational Inc, account for about 60 percent of trading, according to Gerard Hagan Aggrey, a trader at First Atlantic Brokers Ltd in Accra.
Ghana's All-Share Index saw prices retreat only three times in the past 64 weeks, including a dip of less than 1 percent for the week of Oct 6, when global markets measured by the MSCI All-Country World Index fell 20 percent and lost about $6 trillion in value.
The stability of the index reflects a lack of trading, according to Bryan Collings, who runs Hexam Capital's Global Emerging Markets Fund in London. Electronic trading is likely to increase the correlation between Ghana and other markets by making it easier for international investors to move funds, he said.
Agencies
(China Daily 10/31/2008 page16)