The third interest rate cut in two months not only demonstrates China's willingness to cooperate closely with other countries in addressing the global financial crisis but also highlights a growing sense of urgency among Chinese policymakers to avoid a hard landing at home.
The People's Bank of China reduced benchmark lending and deposit rates by 0.27 percentage point on Wednesday. Hours later, the US Federal Reserve cut rates by half a percentage point. And these moves kicked off a second round of interest rate cuts around the globe to save the world economy from a deep recession.
Given the Chinese government's support for an international summit on Nov 15 in the United States to address the current financial crisis and reform of the international financial system, the latest cut of interest rates can be seen as a new cooperative step China has taken to help stabilize the global financial market.
Though global leaders are still struggling for solutions, more and more agree that only by acting simultaneously can the central banks maximize their hopes of tackling the challenges they face. In this sense, China's participation in efforts to stave off a global slowdown is more than welcome.
However, besides the internationally coordinated nature of the move, China's cut of interest rates also came as a monetary stimulus urgently needed to avoid a sharper slowdown of the Chinese economy.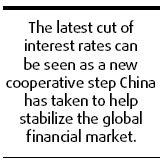 Statistics already showed that the economy has been running into stiff headwinds with gross domestic product slowing from 10.6 percent for the first quarter to 10.1 percent for the second quarter and now 9 percent for the third quarter.
And there is still no evidence that the risks of a sharper-than-expected slowdown have receded in spite of a slew of stimulus measures the Chinese government adopted in October.
It looks more likely now that the spreading global financial crisis and looming recessions in many other economies will hit the Chinese economy increasingly harder.
Under such circumstances, the move to reduce borrowing costs of enterprises is absolutely necessary to propel domestic investment and sustain China's economic expansion.
But the darkening growth prospect has led domestic banks to see rising risks on their outstanding portfolios. It is thus unclear if the rate cut can give a timely boost to credit growth.
Repeated cuts of interest rates have driven home the authorities' determination to maintain sound and fast economic growth.
Yet, for the monetary stimulus to work its magic, policymakers should promptly come up with a fiscal package that can boost domestic investment in the short term and, more importantly, facilitate structural changes in the economy for sustainable growth in the future.
(China Daily 10/31/2008 page8)