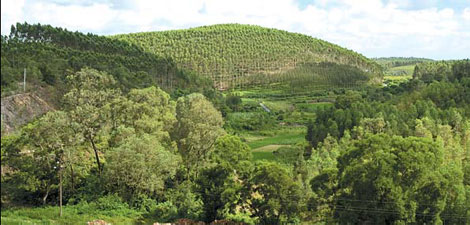 The eucalyptus plantation of Stora Enso Guangxi Forest-Pulp-and-Paper Integrate Project.
Stora Enso is a world-leading forest and paper company serving the markets with a range of forest, paper and paperboard products applied in many industrial areas and almost everywhere in people's daily life.
Stora Enso is a Fortune 500 company with total sales of 11.8 billion euros ($17.7 billion) in 2007. The group has some 36,000 employees in more than 40 countries on five continents. Stora Enso's shares are listed in Helsinki and Stockholm.
Stora Enso started its business in China in 1985 and today its main interests in the nation are further development of its Suzhou Mill, Dawang Mill, Corenso's core plants in Hangzhou and Foshan to improve profitability of imported products from European production units and pursue value-adding business opportunities such as the integrated forest pulp and paper project in the Guangxi Zhuang autonomous region to meet the increasing demand of customers in the world's fastest growing market.
In Guangxi, the company leases 91,000 hectares of land with eucalyptus trees. Its target is to have 160,000 hectares by 2010 as a fiber base for Stora Enso's pulp and paper project in Beihai. The industrial project calls for a mill at Tieshangang Industrial Zone of Beihai with target annual capacity of 900,000 tons of pulp and 900,000 tons of paper and board beginning in 2010.
Stora Enso is committed to sustainability. Economic, environmental and social responsibilities underpin the thinking and approach of its business, which is applied globally including in China.
The group builds accountability into its operations by being transparent and engaging in open dialog with its stakeholders.
China Daily
(China Daily 10/24/2008 page17)