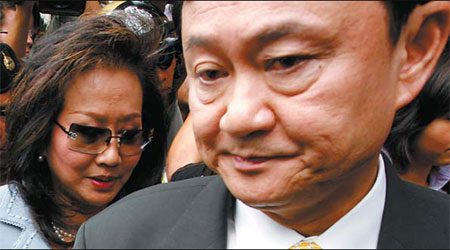 Ousted Thai prime minister Thaksin Shinawatra and his wife Potjaman Shinawatra walk past an army of photographers at the criminal court in Bangkok on July 31. Reuters
Thailand's Supreme Court ruled yesterday that former prime minister Thaksin Shinawatra had violated a conflict-of-interest law while in office and sentenced him to two years in prison.
The nine judges ruled by five to four that Thaksin, who has been at the heart of Thailand's political crisis over the past three years and now lives in exile in Britain, had got involved in his wife's purchase of land from an arm of the central bank.
"The defendant is guilty of violating the anti-corruption law, and the punishment is two years in prison," a judge said, reading out the verdict.
The court acquitted Thaksin on two other criminal charges, each of which carried a 10-year sentence. It also acquitted his wife, Potjaman, of all charges.
It did not seize the land, as requested by prosecutors.
Speaking by telephone, Thaksin said he had long anticipated that the trial would end this way. "The case is politically motivated and you know what politics in Thailand is like," he said.
He denied British media reports he was seeking asylum in Britain. A Thai prosecutor said he would urge Britain to extradite Thaksin now that the court had sentenced him to prison.
The ruling was the first in a series of corruption cases involving Thaksin and his political associates prepared by graft investigators appointed after he was ousted in a military coup in 2006.
It will do little to narrow the political divide in Thailand and will be seen as a further blow to the government of Prime Minister Somchai Wongsawat, who is his brother-in-law.
"The ruling, which was widely expected to turn out this way, is not going to reduce Thaksin's strong popularity in the countryside," said Ramkhamhaeng University political analyst Boonyakiat Karavekphan.
Nearly $2 billion belonging to Thaksin and his family remains frozen in Thai bank accounts pending further court cases.
After more than a year of military rule, an elected government came to power in early 2008 but the main party in the coalition, the People Power Party, is seen by opponents as a proxy for Thaksin.
The extra-parliamentary People's Alliance for Democracy (PAD) has been waging a street campaign since May to force the government out and has occupied the prime minister's official compound since August.
Two people were killed and hundreds injured in clashes between PAD supporters and the police on Oct 7.
The court area was plastered with signs warning Thaksin supporters and opponents they would be held in contempt of court if they caused any disturbance.
Agencies
(China Daily 10/22/2008 page12)